Get Credit for Being a Vegas Golden Knights Fan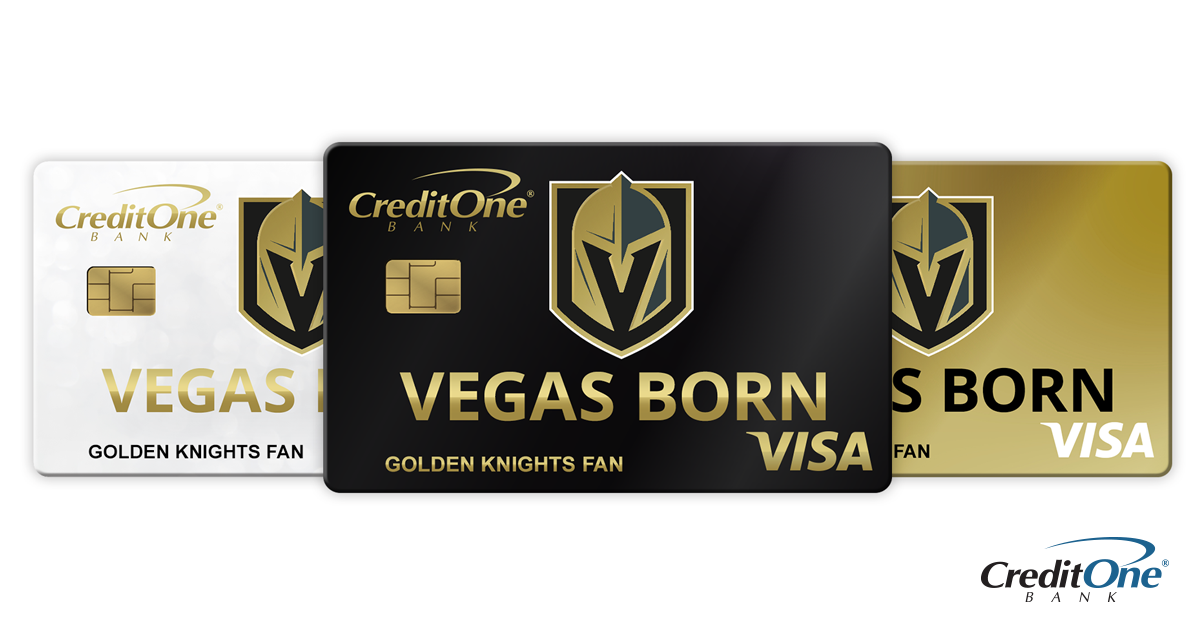 With their odds-defying journey into the 2018 NHL Stanley Cup® Finals during their inaugural season, the Vegas Golden Knights won the hearts of Las Vegas residents in a town that knows a thing or two about longshots. But it isn't just locals or hockey fans who cheer for the Golden Knights—it's millions of people worldwide who appreciate grit, determination, and a true underdog story.
Las Vegas-based Credit One Bank has been a major sponsor of the Golden Knights since they first took the ice. To commemorate the team's success and provide fans with another way to express their support, the bank has released the Vegas Born credit card: The Official Credit Card of the Vegas Golden Knights.
This new Golden Knights-themed card is offered exclusively through Credit One Bank and is now available to existing card members and new card members who qualify.


Perfect for Passionate Fans
Available in three of the team's colors—black, gold, and white—this attractive new credit card features the Golden Knights' official logo and the slogan "VEGAS BORN" emblazoned on the front. So every time you take it out to make a purchase, the world can see loud and clear where your allegiance lies.


Perfect for Everyday Purchases
In addition to a credit line perfect for your lifestyle, the Credit One Bank Vegas Born card also provides you with features that make it ideal as your go-to everyday credit card, including:
1% cash back rewards on eligible purchases*
$0 fraud liability, which protects you from unauthorized charges
Free online access to your Experian credit score*
Perfect for Additional Perks
Along with letting you express your fandom and enjoy Credit One Bank card member benefits, the Vegas Born credit card also provides exclusive perks from Golden Knights partners. The list of partners and perks is continually growing, but as of this writing it includes:

Wolfgang Puck Bar & Grill
Downtown Summerlin & MGM Grand
Receive 20% off of your food and beverage purchases** when you use your Credit One Bank Vegas Born credit card to dine at either of these Wolfgang Puck flagship restaurants.
Cucina by Wolfgang Puck
The Shops at Crystals at the Aria
Purchase your meal with your Vegas Born credit card at Wolfgang Puck's Cucina and receive 20% off of your food and beverage purchase.**
Lupo by Wolfgang Puck
Mandalay Bay
Next time you're dining at Lupo in Mandalay Bay, use your Vegas Born card to pay your bill and get 20% off of your food and beverage purchase.**
Shake Shack
Las Vegas Area
When you show your Vegas Born card before you purchase a "Hat Trick Combo" on Golden Knights game days at Vegas-area Shake Shacks, you'll get a free hockey puck.***
The Arsenal
City National Arena, Summerlin
The purchase of all logo apparel (excluding jerseys) at The Arsenal with your Vegas Born credit card will earn you a 10% discount.
Nacho Daddy
Summerlin
Use your Vegas Born credit card to purchase food and drinks at Nacho Daddy during a Vegas Golden Knights game and get 20% off your bill.
Born and Raised
Las Vegas & Henderson
Pay your bill at a Born and Raised (B.A.R.) using your Vegas Born credit card and they'll knock 10% off of it.
Krispy Kreme
Las Vegas
Download this coupon and show your Vegas Born card with this coupon to earn a free Vegas Golden Knights donut with the purchase of a dozen donuts at all Las Vegas locations.
FoleyFoodAndWineSociety.com
Get 10% off of any wine purchase when you use your Vegas Born card and sign up for the Foley Food & Wine Society. Just use the promo code VEGASBORN.
Foley Family Wine Tasting Rooms
Enjoy a complimentary wine tasting for you and one guest plus 10% off wine at all Foley Family Wine Tasting Room locations† when you use your Vegas Born credit card.
Ethel M Chocolates
Henderson
Purchase the new Chocolate & Wine Tasting for two with your Credit One Bank Vegas Born card and save 20%. Or use it to purchase the Chocolate Tasting for two and save 33%.
If you're a passionate Golden Knights fan, this credit card is definitely something you're going to want to have in your pocket or purse.
Already a Credit One Bank card member? Click here to log in to your account and upgrade your current card.††
Not a card member but want to show your support for the team? Click here to see if you prequalify.


Offers provided by and redeemable at participating merchants. Credit One Bank is not responsible for these offers, including any loss, damage, or claim resulting from (1) the redemption or attempted redemption of any offer or (2) the use or non-use of any provided goods or services. Offers may be withdrawn, terminated, modified, or changed at any time without notice. See participating merchants for complete terms and conditions for individual offers.
** Can be used in restaurant for parties up to 12 people. Can also be used for "To Go" orders.
*** Offer accepted at New York New York Hotel & Casino, MGM Grand, Las Vegas North Premium Outlets, The District at Green Valley Ranch, and Downtown Summerlin™ locations. Not accepted at the T-Mobile Arena location.
† Tasting room locations available at FoleyFoodAndWineSociety.com.
†† A fee may apply for premium card designs.
«

Return