How to Earn Points at Six Flags®
---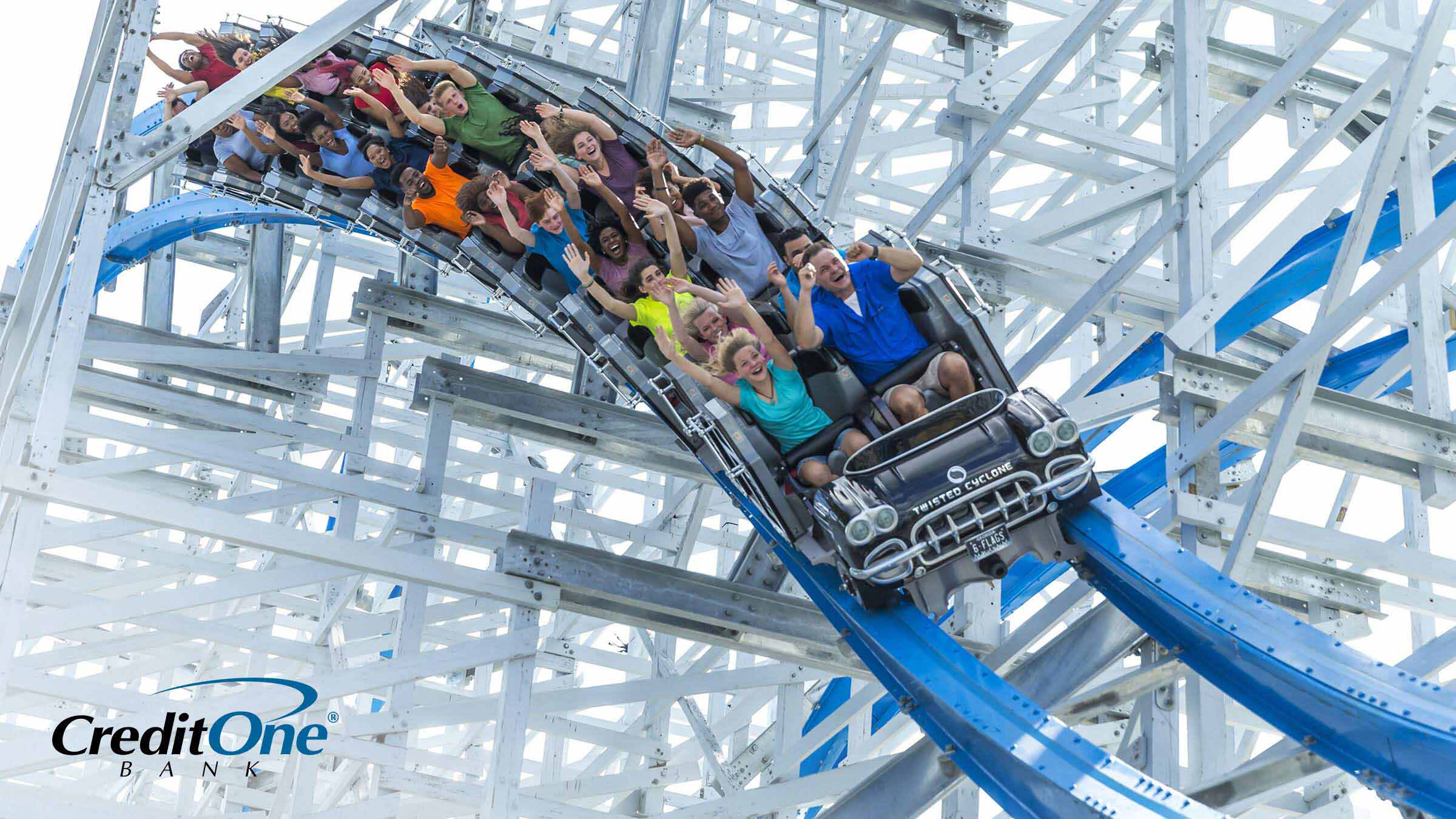 If you're a theme park enthusiast, Six Flags® theme parks and waterparks are almost certainly on your radar. With 27 parks across the United States, Mexico, and Canada, Six Flags Entertainment Corporation is the world's largest regional theme park company and has been thrilling and entertaining families for over 60 years!
One way to get the most out of your Six Flags experience is to earn points redeemable for park admission, parking, merchandise, or other bonuses at Six Flags theme parks and waterparks. When redeemed, these points could help save you money on your park visits or elevate your visits by offering savings or bonuses available to point earners.
Here are three ways you may be able to earn three different kinds of points on or for your next Six Flags park visit.
1. Six Flags Membership
Six Flags offers four types of monthly Memberships (Gold Plus, Platinum, Diamond, and Diamond Elite) that get you unlimited visits to Six Flags theme parks plus other benefits (depending on the Membership you purchase) such as food and merchandise discounts, free soft drinks, parking, and even skip-the-line passes.
Possessing one of these Memberships also earns you points through the Six Flags Rewards program if you live in the United States and are over the age of 12. For example, if you subscribe to any of the afore-mentioned Memberships, you'll earn 50 points every day you visit a Six Flags park. Or, you could earn 25 points for every dollar you spend at shops and restaurants within the park. The points you earn are redeemable for a whole host of reward items such as preferred parking, free food and drinks, discount vouchers, and more.       
2. Points Rewards Credit Cards
By using a points rewards credit card at a Six Flags theme park or waterpark, you could earn valuable points on eligible purchases. But the key is understanding what actually qualifies as an eligible purchase. If your rewards card earns you points for every dollar you spend with the card, then any and all Six Flags-related purchases should get you points, including park admission, parking, food and beverages, and souvenirs. If eligible purchases for your points credit card include, say, gasoline and dining out, then any gas you burn getting to and from a Six Flags park, or meals you consume in transit or within the park, should also earn you points.
Points earned on everyday purchases that aren't necessarily related to a Six Flags park could also help you offset the cost of a park visit. For example, if you were to earn enough points over the course of a year with a cash value of $300, and those points were redeemable for a $300 statement credit, that would free up $300 for a future Six Flags park visit. 
This credit card is designed specifically for Six Flags lovers and is available only from Credit One Bank. With this specialized rewards credit card, you earn three times the points on eligible Six Flags purchases; two times the points on eligible gas, grocery, and lodging purchases; and one times the points on all other purchases.† Points can be redeemed for Six Flags park admission, park dining passes, and more.
So, let's say you're planning a trip to a Six Flags park in the near future. By using this card for many everyday eligible purchases, such as groceries and gas, you could earn two points for every dollar spent. Other purchases would earn you one point for every dollar spent. Then, when you actually go on your trip to the park, you could earn three points for dollar spent with the card on eligible Six Flags purchases. The points you earn can then be redeemed for that or future visits to Six Flags to help save you money or make your trip even more memorable! 
If you qualify as a Six Flags enthusiast looking to earn points to help take your next visit to the next level, see if you Pre-Qualify for a Credit One Bank Six Flags Rewards Visa. It takes less than minute and won't harm your credit score.
† Points may be redeemed for Six Flags products and services in the form of rewards vouchers. Rewards vouchers are delivered by email within two (2) business days from the time the item is ordered. Points cannot  redeemed in the park. Credit One Bank is not responsible for these products including any loss, damage, or claim resulting from (1) redemption or attempted redemption of any offer or (2) use or non-use of any provided goods or services. Products may be withdrawn, terminated, modified, or changed at any time without notice.