Credit One Bank Platinum Visa® Credit Card
See if you Pre-Qualify without affecting your credit score.
Enjoy a credit line between $300 and $3,000 based on your credit history.
See all of the exciting features that come with your card
NEW! CARRY THE OFFICIAL CREDIT CARD OF NASCAR®
1% cash back on eligible purchases, terms apply
Double cash back at the NASCAR.com Superstore
Get access to exclusive offers and discounts from NASCAR partners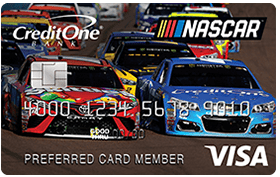 Learn More
---
Reviews and ratings are submitted by Credit One Bank card members.
We appreciate these comments, and review each one looking for opportunities to improve. Read more Reviews comply with the Bazaarvoice Authenticity Policy detailed at www.bazaarvoice.com/trustmark. Opinions expressed are the authors' alone, and have not been approved or endorsed by Credit One. Details discussed may not represent all card members' experiences or products currently offered, and Credit One Bank makes no guarantees.
---