Dining In vs. Eating Out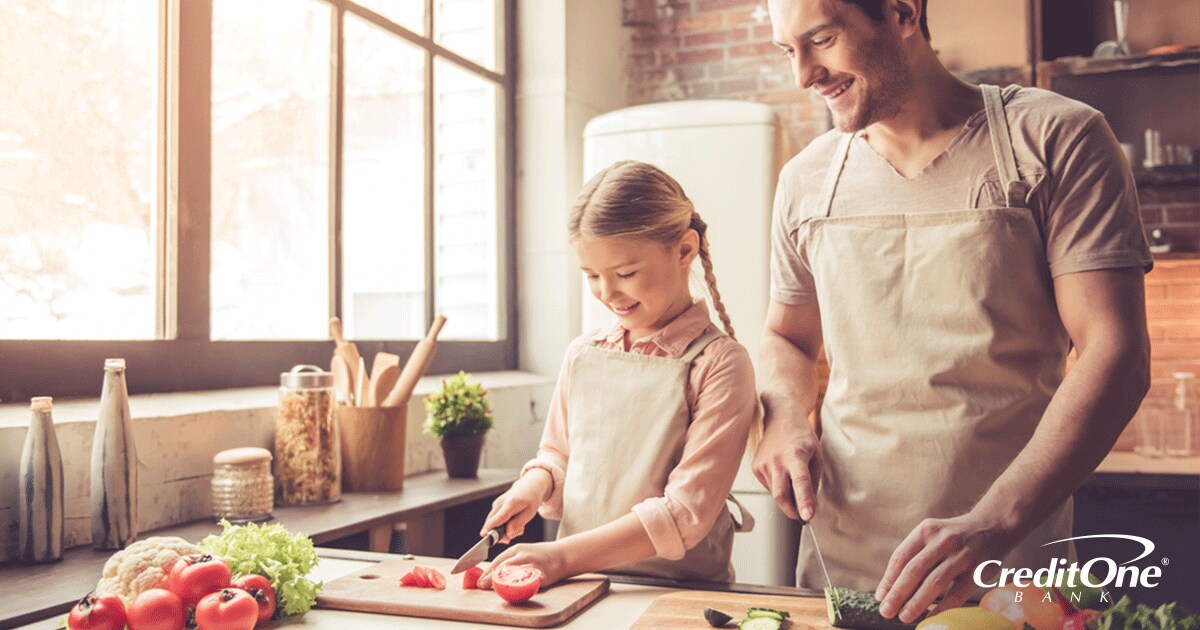 Want to make a huge impact on your spending and save money? Change the way you budget for food. From taking advantage of grocery rewards and getting cash back when you do dine out, to dining in more frequently, you can save money on food and have cash left over each month for other things.

Food is a large but necessary part of every American household budget. This is why it is so important to budget your meals and to learn creative ways to save money on food. Whether you're dining out or cooking meals at home, here are the benefits each option brings to the table.
TIPS FOR DINING IN
Of course, dining in is less expensive than eating out. Once you understand just how much cheaper it is, you may develop a newfound love for home cooking!
Here is some food for thought to help you grasp the financial benefits of dining in:
A single meal at a restaurant, on average, costs around $12.75. For a family of four, the total price comes out to $51. That's for one meal of the day. You'll still have to budget for other meals and snacks.
If that $51 were spent on groceries, you could prepare two or three healthy meals with simple ingredients. To stretch the benefits even further, you'll probably have leftovers, creating even more meals out of that same $51.
According to Datafinity.co, the median price of a quesadilla at a restaurant is $15.04. If you cook it at home, the median price for a homemade quesadilla is only $2.51!
Eating in is one of the best ways to stretch your dollars. You can increase your savings even more with a few consumer savvy tips.
Buy in bulk. Things like granola, dried fruit, beans, nuts, and grains can be purchased in bulk. Bulk items can be a lot cheaper, giving you more for the money you spend. You can also explore the deals at warehouse stores like Walmart and Costco. If your family eats a lot of cereal, for example, try purchasing larger sizes which have a lower cost per quantity sold.
Look for seasonal sales. During the holiday seasons, grocery stores will push traditional ingredients like spices, corn bread mix, and canned pumpkin. This is a great time to purchase these items and stock up. You'll also find seasonal and local fruits and veggies are often priced lower than non-seasonal produce.
Prep meals in advance. If you have a few hours of downtime on Sunday morning, you can make up your tuna salad, vegetable soup, pasta dishes, and other meals and then store them in the fridge or freezer. You'll save time during the busy week and reduce your food prep time overall.
Earn rewards on your groceries. Some of the best credit card reward offers will include cash back rewards on groceries. If you're looking for a credit card that offers rewards, the Credit One Bank credit card offers 1% cash back rewards on eligible groceries and other items. Terms apply. Why not get cash back rewards for making the necessary purchases you have to make anyway? You can use the extra rewards towards next month's groceries or other expenses.
If your local grocery store offers a loyalty rewards card program, you can double your cash back rewards. Keep in mind with grocery rewards, you may have to shop at a traditional grocery store. Convenience stores and warehouse clubs that sell food items may not count towards the credit card rewards.
TIPS FOR DINING OUT
While dining in often will save money, dining out once in a while will not hurt your wallet either, nor your health. Ninety-nine percent of people live a busy, on-the-go lifestyle. Eating out on occasion is a great way to save time and to treat ourselves to a well-deserved break from cooking. The key is to use moderation and when you do go out, to take advantage of all the ways you can still save money on food.
Sign up for restaurant email newsletters. Have a cafe you love to eat at? Sign up for their email marketing newsletter and follow them on social media. Usually, restaurants offer special deals, rewards points, and other offers to subscribers.
Find deals at club stores. Wholesale clubs aren't just excellent for saving money on bulk food. Many also provide discounted gift cards to popular restaurants. Next time you head over to Costco to stock up on cereal and paper towels, browse the gift card section and snap up some excellent deals for yourself.
Eating out on a budget shouldn't be limited to happy hours. When you know how to save money on food, you can eat delicious food, dine at your favorite spots, and have fun cashing in on all those rewards points!
«

Return