Another 7 Credit Myths Debunked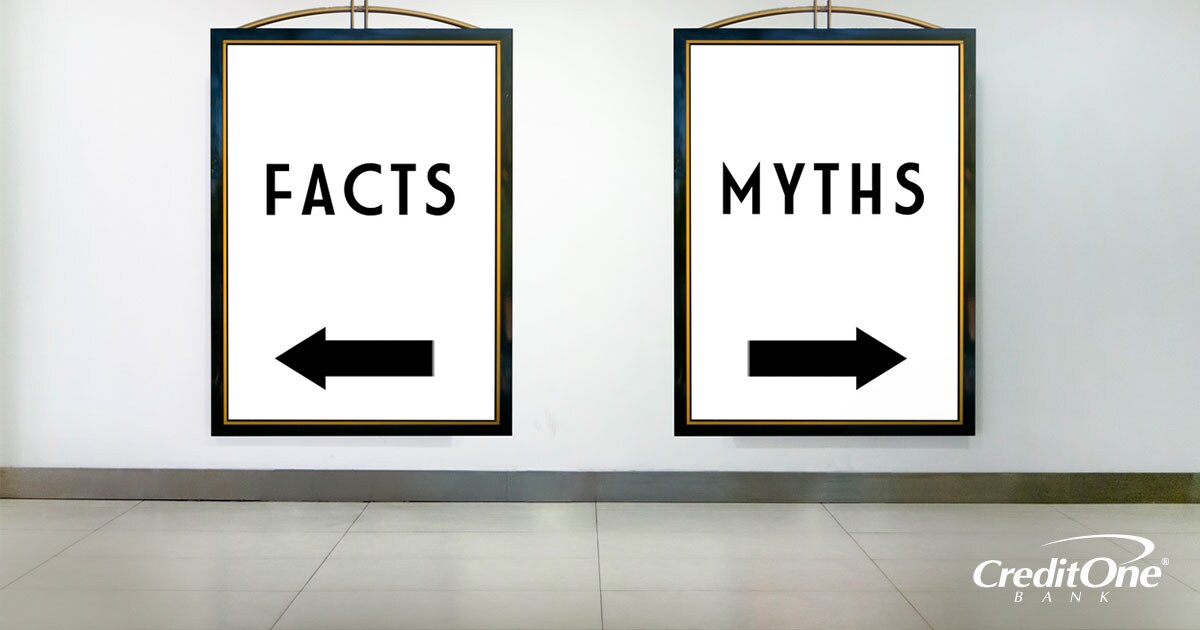 Myths have been used throughout history to explain the inexplicable, but credit is not some mysterious concept that can't be comprehended without tales not based in reality. A good credit score is not a unicorn, and you don't need King Midas' golden touch to establish and maintain good credit.

We covered six credit score myths in How to Improve Your Credit Score: Common Credit Score Myths, but many more myths about credit still exist. Here are seven of the more common—and more persistent—ones:


Myth #1: You Only Have One Credit Score
You may only see one credit score when you check yours, but don't let that fool you. Your credit score is based on information contained in three separate credit reports from the three major credit-reporting agencies—Experian®, TransUnion®, and Equifax®—and that information may not be identical in each report.
Then there are two major credit scoring models, FICO® and VantageScore®, which use different formulas to calculate your credit score. On top of that, these scoring models can have multiple variations, and lenders often tweak the formulas to calculate their own scores. All of which means you, the consumer, could conceivably have dozens of different credit scores.


Myth #2: Your Credit Score Is Influenced by Your Income and Assets
Having a nice income and asset portfolio may help you to get a loan or a higher line of credit, but it has zero effect on your actual credit score. That's because credit scores are calculated using specific credit data, and your income and what you own are not included in that data.
Your income may, however, indirectly affect your credit score in that a higher income could make it easier to keep your outstanding balances lower and to make consistent, on-time payments, both of which are factored into calculating your credit score.


Myth #3: Accepting a Credit Limit Increase Will Damage Your Credit Score
Whether or not this proves to be a myth ultimately depends on your purchasing behavior. If you get a credit limit increase on a credit card and don't increase spending on that card, your credit score should typically go up. This is due to your credit utilization ratio, which makes up 30% of your FICO credit score.
Credit Utilization Ratio = Sum of Your Outstanding Revolving Credit Balances ÷ Sum of Your Revolving Credit Limits
Ideally, you want this ratio below 30%. But no matter what it is, if the credit balances stay about the same and the credit limits get larger due to a credit limit increase, the ratio will decrease. However, if you use your higher credit line to increase your outstanding balance, then, yes, a credit limit increase could end up hurting your credit score. 

Myth #4: Paying Less Than the Minimum Amount Due Doesn't Count as a Missed Payment
Adhering to this myth can cost you money and damage your credit. If you don't make at least the minimum payment due on time, it technically counts as a missed payment, and your credit card company may report the account past due. They will also likely hit you with a late payment fee even if your partial payment was on time.
If you can't make your minimum payment, rather than pay less or nothing at all, it's a good idea to call your credit card company and explain your situation. They may be willing to work with you.


Myth #5: You Don't Need to Worry About Your Credit If Your Spouse's Credit Is Good
You may not have to worry about it if you plan on letting your spouse purchase cars and homes and open lines of credit in their name only—but contrary to popular belief, there's no such thing as a shared credit report for married couples.
Yes, joint accounts like mortgages and car loans will be reflected on both of your credit reports, but your individual credit report is linked to your Social Security number and yours alone.


Myth #6: Employers Can Check Your Credit Score
This myth lives on because many people use "credit score" and "credit report" interchangeably. An employer may check your credit report—with your permission—but not your credit score. And the credit report they can pull is not the same report lenders see. It's abbreviated and doesn't contain certain personal information, such as your date of birth.
A potential employer's inquiry has no effect on your credit score, and only you, not other potential employers or lenders, can see that it ever happened.


Myth #7: It Takes a Long Time for Your Credit to Go Bad
You can spend a lifetime building and maintain good credit, and it can all go south within a matter of a month or two. For example, Equifax reported data from FICO that a 30-day delinquency could lower a credit score of 780 by 90 to 110 points. And a single 90-day late payment can be just as damaging to your credit score as a bankruptcy! So stay vigilant in protecting that credit you worked so hard to establish.
Using credit to your advantage is about comprehending cold, hard facts, not buying into the many myths that abound. The truth will hopefully set you on the path to building and maintaining a lifetime of better credit.
«

Return