Careers in Financial Services
Consider Making a Career Move to Credit One Bank
---
Financial services is one of the fastest-growing sectors in the U.S. economy. Choosing to work in this industry could prove to be a lucrative decision.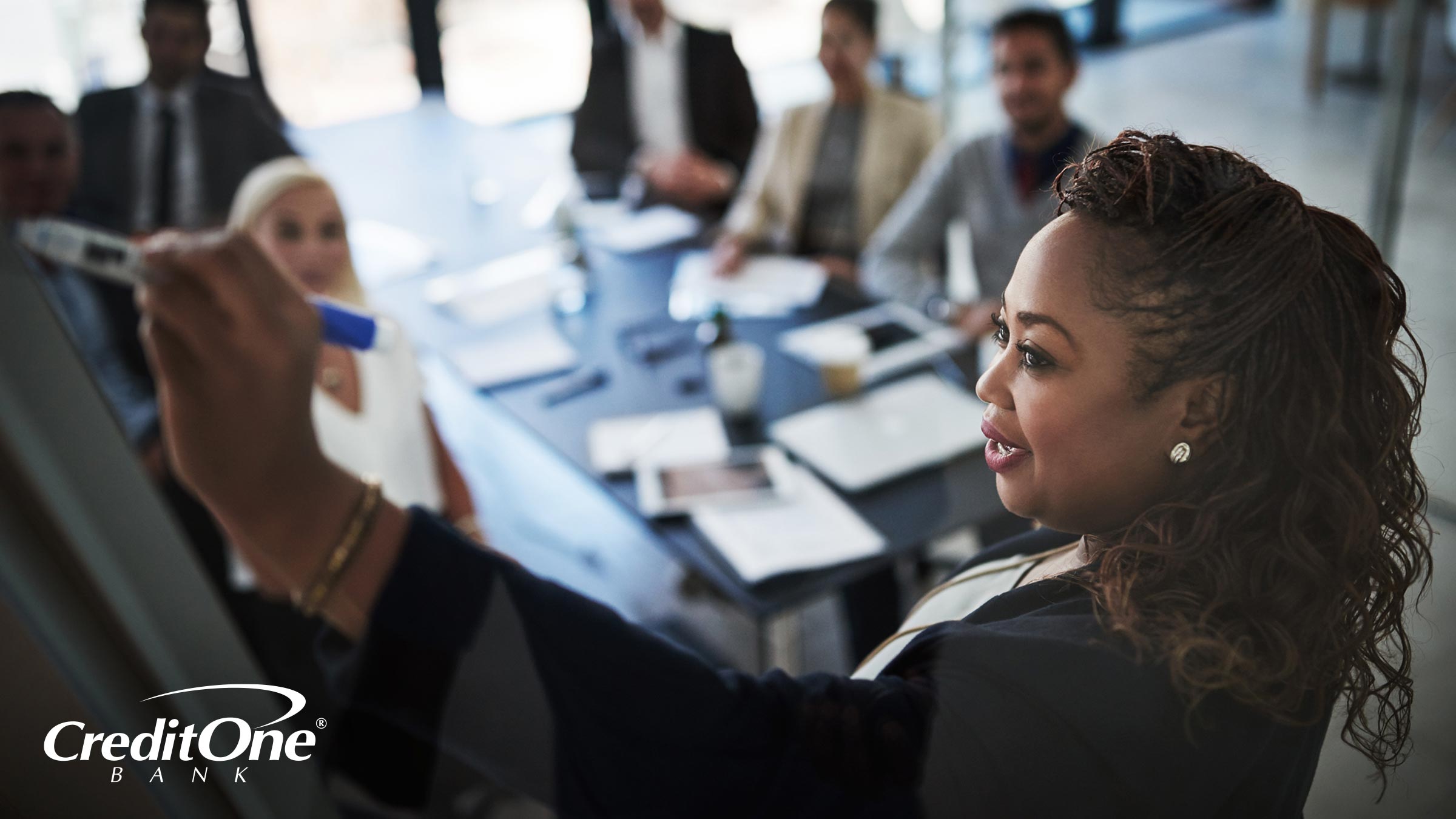 Most Americans plan to look for a new job within the next 12 months, according to an August 2021 Bankrate Job Seeker Survey. If you're one of the 55 percent planning to actively seek new employment—or you're fresh out of school and ready to start your job search—you may want to consider a career in the financial services sector.
Why financial services? 
"Today, financial services is probably one of the fastest-evolving sectors anywhere in the world," said Credit One Bank Chief Operations Officer Dennis Grady. "So, regardless of your discipline, whether it's technical or operational or marketing oriented, you're on the cutting edge of how things are being done if you're in financial services."
According to the Bureau of Labor Statistics, 6.43 million Americans worked in the finance and insurance industries in 2019. That same year, the output from the finance and insurance sectors was $2.34 trillion (yes, with a T), with a projected growth in output of 15.2% over the next decade.
That's a lot of growth, which translates into a lot of jobs and career opportunities. So, if you're overlooking the financial services industry in your job search, you may be doing yourself, and your career, a disservice. There's a lot more diversity and potential in this industry than you might think—especially at Credit One Bank, one of the largest, fastest-growing credit card issuers in the country.
One of the following departments at Credit One Bank could prove to be your trailhead for a rewarding career path in the financial services industry.   
MARKETING
Credit One Bank's Marketing department is responsible for developing communication strategies and campaigns that effectively convey who the Bank is and what it has to offer to current and potential card members.
"Marketing is the primary voice of the Bank," explained Credit One Bank Senior Vice President of Marketing John Coombe. "It's also the department that attracts new customers."
Coombe acknowledged that one challenge the Marketing department sometimes faces in finding qualified employees is overcoming perceptions that marketing for a bank may be a bit on the dry side, with less exciting opportunities than marketing for companies in seemingly more glamorous industries. But, in Credit One Bank's case, that perception couldn't be further from the truth. 
"Back in the day, there wasn't a lot of marketing in the banking industry because everyone thought you just check your bank account once a month," Coombe elaborated. "But money is moving much more rapidly now, and the credit card industry is evolving more rapidly, too. It's a commoditized industry, for the most part, so the challenge is, how do you differentiate yourself?"
One way Credit One Bank differentiates itself is through a high-profile national advertising campaign featuring "spokesdeity" Cashios, god of cash back. Another way is by partnering with strong brands in the sports and entertainment worlds to help build brand equity and reach more targeted audiences.
"We've had a relationship with NASCAR for over six years," Coombe said. "We also work with the Vegas Golden Knights, the Raiders, and WWE®. We have some sizable relationships with some of these cool sponsorships that provide us with additional visibility."
Along with a chance to leverage partnerships and a popular advertising campaign, Coombe also believes the sheer number of new products Credit One Bank has released has created marketing opportunities never before seen in the Bank's 30-plus-year history. Currently, Credit One Bank offers 13 separate credit cards and has been expanding into other financial products and services, including jumbo certificates of deposit and insurance.
"There's so much new technology and so many new products," Coombe stressed. "The pipeline is filling up with new products, and those products need to be marketed. This is the most exciting time to be joining Credit One Bank."
As for the type of marketing employees the Bank is seeking, Coombe emphasized that it's a mixture of both new and experienced people who bring energy and what he describes as "a sense of analytical adventure."
"We move really fast, we innovate quickly, and we make decisions quickly. That has allowed us to grow at a rate significantly greater than the industry as a whole. That makes it fun. No two days are the same here."
Marketing positions at Credit One Bank support specialized areas including but not limited to: Digital Marketing, Direct Mail Strategy, Marketing Analytics, Web Development Marketing, Customer Acquisitions, and User Experience.
INFORMATION TECHNOLOGY
In explaining why an established IT professional or someone looking to start a career in information technology should be interested in joining the Credit One Bank team, Puneet Rawal, Credit One Bank's Chief Information Officer, brought up one word repeatedly: Growth, with a capital G.
"We are growing at almost 20 percent each year, and we have been growing at that pace for the last five-plus years," Rawal emphasized. "We started the year as the seventh largest credit card issuer, and we are currently the sixth largest in the country. If you want to grow, and you want to grow with a company that's growing, that's us."
The abbreviation IT may only be two letters long, but the role this department plays at Credit One Bank is truly expansive. The Information Technology team supports most every area of the Bank, utilizing technology solutions to collect and interpret data for business strategies. This team also provides infrastructure for everything from card-member-facing applications to processing systems that keep all of the company's products functioning properly. 
"We are doubling the size of the IT team in our state-of-the-art facility," Rawal explained. "Given where we are, and the growth we are seeing, we are planning on making impressive amounts of investment in technology to modernize the Bank. So, IT team members will not only have the opportunity to work on all the names in technology that have been around, they will also have an opportunity to work on the latest and greatest tech."
Besides massive growth potential and the opportunity to get your hands on cutting-edge technology, Puneet Rawal also stressed one other reason IT professionals should consider a career with Credit One Bank. That reason involves taking full advantage of the most technologically advanced computer on the planet: the human brain.
"Unlike the majority of companies out there, with banks, for the most part, there's nothing but human brains and technology systems," he said. "That's all there is. Given the importance of technology, if you're a computer science major, would you want to work for a company that gives too much importance to technology? Or would you want to work for a company where technology is just a side factor?"
Rawal is seeking employees—both green and highly experienced—who skew toward the latter. Employees who are also highly organized, have an appetite and aptitude to learn, and can appreciate the ride they'll be taking as the Bank continues to grow at its meteoric pace.   
"The end goal will be exciting," he said confidently. "But the journey is going to be even more exciting."
IT positions at Credit One Bank support specialized areas including but not limited to: Desktop Support, Network Engineering, Systems Support Engineering, and Software Development.
RISK MANAGEMENT
The Risk department at Credit One Bank provides analytics, statistical models, and reports that enable the Bank to develop and execute successful business strategies. Risk employees evaluate data and use it to influence strategic decisions and predict future outcomes critical to the Bank's success. 
"If we're doing a good job, we'll stay in business. If we're not, and everyone charges off on us, we're going to be in trouble. Fortunately, we do an excellent job," said Credit One Bank Senior Executive VP and Chief Risk Officer Don Blackhurst. "Our main focus is credit risk, but we have other areas like fraud risk, enterprise risk management, and operational risk. But the majority of people in Risk Management manage credit risk."
Blackhurst has been with Credit One Bank for over 20 years and has seen the company grow by leaps and bounds. But he appreciates how the Bank still has the feel of a smaller startup, albeit a financially stable startup with over three decades of experience.
"We're still small enough that most people get to know each other, and you get to see a bigger part of the picture," he explained. "You get to see more of what really happens and understand more of what your job does to impact the bottom line. When you're with a huge bank, you're almost more of a cog in the wheel than making a difference. Here, you can actually make a difference."
As far as the types of activities an employee in Credit One Bank's Risk department could expect to participate in on a daily basis, Blackhurst made it clear that no two days will be the same. But the one common denominator in those daily activities will be critical thinking.
"If you want to come in and have a job where it's just routine, and you don't have to think about it, and you do the same thing day after day, this is not the career for you," he said. "But, if you want to be able to exercise your brain and really think about things and make a difference, this is a great career."
Blackhurst is looking for both entry-level and experienced people to join the Risk team. Employees just getting started with their Risk careers typically start out as analysts. More senior positions vary by title and scope but typically require previous risk management experience. While there isn't one cookie-cutter type of employee he and his staff are looking for, being able to think analytically and pay attention to detail are two qualities possessed by most everyone on the team.
"You really have to put on your analytical hat and try to figure out who's going to pay us back, who's not going to pay us back, which funds are good, which funds are not good. It's a lot of detail, and you have to have that attention to detail," he emphasized. "Someone with analytical skills and the ability to think outside of the box is someone who could be really successful here."
Risk Analytics positions at Credit One Bank support specialized areas including but not limited to: Fraud Management, Statistical Modeling, Financial Analysis, Data Engineering, Tableau Development, Customer Acquisitions, and Portfolio Management.
OPERATIONS
The Operations department is Credit One Bank's touchpoint with its customers—current card members, potential card members, and potential and current customers for other products and services offered by the Bank. These team members spend most of their time providing customer service or implementing and improving processes and procedures that help with this mission. Because they represent the Bank and its brand at all times, members of the Operations team are extremely valuable assets for building customer satisfaction and loyalty.
"We're all about how do we provide the customer with the services they want at the channel of their choice at the time of their convenience?" Credit One Bank Chief Operations Officer Dennis Grady explained. "Whether that's 24/7 capability, mobile, transactional web, or with an agent on the phone. Whatever channel they choose, we have to make sure their experience is consistent across all those channels. That's how you retain customers. That's how you create customer satisfaction."
Grady feels so strongly about the role Operations employees play in the Bank's success that he feels every employee in the company should spend some time in his department.
"Everybody should do a rotation in Operations at some point. Whether it's Customer Care, Fraud, Collections, Back Office—any of those disciplines has value," he explained. "That's where you learn what the customer sees, feels, hears, and thinks. And, as you advance through your career, having those touchpoints is really valuable versus it being some abstract relationship that you see in a report or hear about in a meeting."
But not every role in Operations involves being on the phones or having direct contact with customers. There are also roles more analytical in nature.
"We're a little different than most areas of the Bank in that we have both line and staff roles," Grady elaborated. "With a line role, you could end up as a supervisor managing a team of people. Or you could end up in a staff role as an analyst. We're analyzing all kinds of things every day based on customer response, complaints, the things we're hearing across customer channels."
Regardless of which type of Operations career might interest you, critical thinking is once again a key attribute the department looks for in applicants.
"We're looking for critical thinkers because no day is the same," said Grady. "Every day we're faced with new challenges, both from the marketplace and our own policies and processes."
Because critical thinking and people skills aren't unique to the financial services sector, Operations, perhaps more than any other department at the Bank, values and welcomes applicants with more diverse backgrounds and experiences.
"I'm always excited about people from different industries," Grady acknowledged. "Critical thinking skills, analytical skills, a desire to understand how operations function—those are pretty transferrable skills across multiple sectors, whether it's financial services, retail, or manufacturing. Everybody has a customer."
Improved technology will also play a bigger role in the Bank's operations going forward, which means more tech-centric career paths for Operations team members.
"We're moving toward the next phase of technologies for operational platforms," Grady stressed. "Conversational IVR, which is AI [artificial intelligence] based. A customer calls in and, based on their previous calls and interactions with the web or mobile app or with an agent, we'll be able to anticipate what they might be calling us about and get them to the right place quickly, including virtual assistance using natural language understanding [NLU]."
Operations positions at Credit One Bank support specialized areas including but not limited to: Vendor Management, Customer Service, Fraud Operations, and Collections.
ACCOUNTING & FINANCE
It's pretty obvious why someone with a financial background might choose to work in the financial services industry. But there are plenty of other options out there, given that every company in every industry needs people to handle money matters. 
"Everybody needs a Finance department and the structure and rigor around accounting and controls," said Credit One Bank Chief Financial Officer George Hughes. As for why one should choose to work for a Finance department actually in the financial services sector, he stressed the importance of the sector in keeping our economy going. "The financial services industry represents the lifeblood of the nation's economy."
The 60 plus team members who comprise Credit One Bank's Treasury & Finance department apply their skills across five core disciplines: Financial Reporting & Tax, Customer Accounting, Treasury, Financial Planning & Analysis, and Budgeting & Data Analytics.
"The Bank facilitates the flow of billions of dollars a month between card members, merchants, and other financial institutions," Hughes explained. "Our Treasury & Finance department sits in the middle of that economic flow—almost like an air traffic controller, but for money."
Hughes has been with Credit One Bank for over two decades and understands the opportunities that abound with the growth he's witnessed firsthand—both for the Bank and its employees.
"We started as a very small organization, and now we're much larger, but we're not finished in our growth path. There are a lot of opportunities out there we've yet to explore," he elaborated. "There's a lot of room for personal success and growth while working to achieve the overall company goals."
If you're just out of school or early into your career, you would likely start out in Credit One Bank's Treasury & Finance department as a staff accountant or a financial analyst. "They're different skill sets," said Hughes. "There's some commonality of knowledge, but they have a different focus."
A typical career path in either role might be to be promoted to senior accountant or analyst, then to a manager or associate vice president, and then to a vice-presidential level. "On the accounting side, it would be ultimately progressing up to a controller," Hughes added. "On the treasury side, it would be ultimately progressing up to treasurer."
As with most all the other departments highlighted in this piece, critical thinking is yet again a quality valued in employees in Credit One Bank's Treasury & Finance department—and something Hughes looks for in applicants just beginning their careers. "We're looking for someone who's a self-starter, inquisitive, asks a lot of questions, challenges the status quo, and is looking to improve upon what's currently being done. Whether it be a process, a procedure, or personal or staff development."
For more senior positions, Hughes favors candidates who can leverage their experience and expertise to bring out the best in others. "The ability to motivate, lead by example, foster a collaborative environment, and encourage individual input and ideas," he explained. "Because all individuals add value to the organization."
Treasury & Finance positions at Credit One Bank support specialized areas including but not limited to: Financial Analysis, Staff Accounting, Process Accounting, Accounts Payable, Data Analysis, Bank Operations.
SEE A POTENTIAL MATCH?
Hopefully we've convinced you not to overlook the financial services industry in your career search. And, if we've succeeded on that front, to also consider Credit One Bank as your future employer. With so much diversity, opportunity, and growth potential, the Bank is a great place to start—or continue—a successful career in an industry with nearly unlimited upside.
If you haven't already explored one of the job links above, click here to view current Credit One Bank job openings.