---
A home warranty could help protect appliances and systems in your home not covered by homeowners insurance. Learn more in this article by Credit One Bank.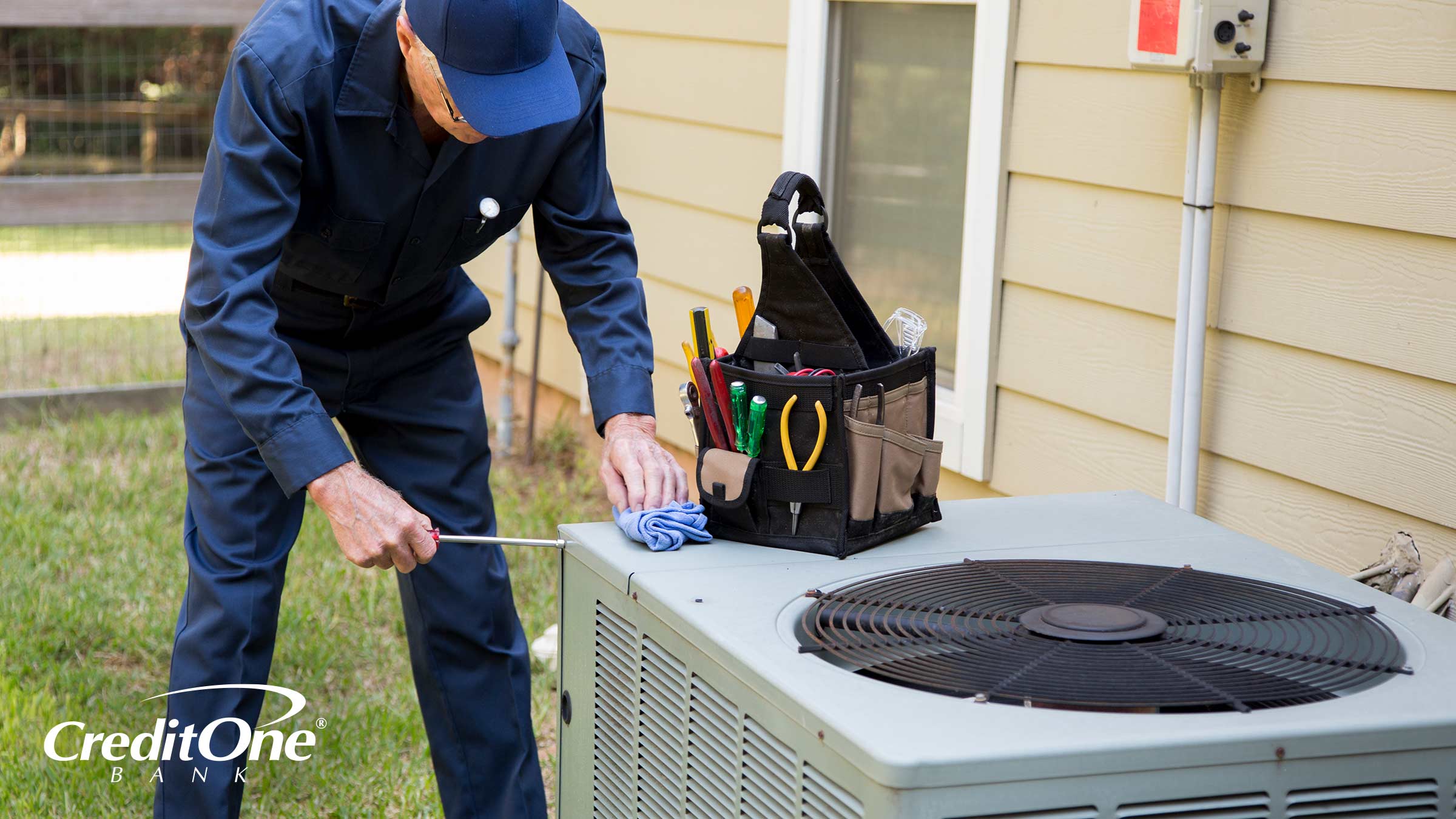 Thinking about purchasing home warranty insurance? If you are, then you may need a little clarification, because there's technically no such thing as "home warranty insurance." This term appears to be a hybrid of "home insurance" (aka homeowners insurance, as it's primarily called) and "home warranty," which are two similar but distinctly different products. However, they both offer
homeowners protection against out-of-pocket expenditures and can even complement each other to help you achieve the right mix of protection. 
What's the difference between a home warranty plan and homeowners insurance?
While the words "warranty" and "insurance" both convey protection, the type of protection they offer does, in fact, differ. A home warranty plan typically covers—or helps cover—the cost of repairing or replacing major appliances and/or systems in your home that break down due to normal wear and tear.
For example, if your central air conditioner were to break down, a home warranty plan would typically cover some or all of the cost to repair the unit, depending on the plan and the coverage selected. If the unit were deemed unrepairable, again, depending on the plan, a home warranty would typically cover some or all of the cost to replace the unit.  
A homeowners insurance policy, on the other hand, covers damage to your home and certain property inside of (or on) it due to unexpected events such as a fire or storm. So, using that same air conditioner as an example, if the unit were to break down due to simple wear and tear, the cost to repair or replace it would not be covered by homeowners insurance. However, should a windstorm blow down a tree, which then crashed onto and destroyed that unit, it would likely be covered by homeowners insurance.    
Think of the difference between insurance and a warranty in terms of automobiles.
If you have automobile insurance that covers damage to your vehicle, that insurance should help pay for repairing or replacing your vehicle if it is damaged in an accident or from some other outside force, such as a tree falling on it. In this sense, automobile insurance is similar to homeowners insurance.
However, if your transmission needed to be repaired due to everyday wear and tear, your automobile insurance would not cover this cost. Any compensation for such a repair would fall under the jurisdiction of your vehicle's warranty, assuming the warranty is still in effect. If not, then any supplemental warranty you may have purchased might cover it. If there's no warranty of any kind, then you're probably on the hook to repair the transmission with your own hard-earned money. 
What does a home warranty plan typically cover?
What is covered depends on the warranty plan you purchase, but a home warranty typically covers major appliances like washers, dryers, dishwashers, ranges, refrigerators, furnaces, water heaters, air conditioning units, etc. Your specific plan may also cover certain home systems, such as the HVAC or electrical system.
Plans typically don't cover smaller appliances like microwave ovens, toasters, televisions, etc. And your plan may only provide a discount on repair or replacement of your item, not necessarily cover the entire cost. So, it's important to carefully review a home warranty plan before purchasing it to ensure it's going to meet your needs.  
How does a home warranty complement homeowners insurance?
Let's say your washing machine breaks, overflows, and damages a hardwood floor. With a home warranty, repairing or replacing the washing machine would likely be covered, but repairing your floor would not be. With a homeowners insurance policy, the cost of repairing or replacing your floor would likely be covered, but fixing or replacing your washing machine would not be.
If you have both, your washing machine and the damage it caused to the floor should both be covered. Again, to what extent they're covered depends on the homeowners policy and home warranty plan you purchased.   
Am I required to have a home warranty plan?
You are not required to purchase a home warranty plan or a homeowners insurance policy by law. However, if you're financing your home, many lenders may require you to purchase a homeowners insurance policy to lessen their risk. Purchasing a home warranty plan, however, is strictly voluntary.
How does a home warranty plan work?
Think of a home warranty plan as a service contract. You make monthly or annual payments and then, if and when you need service on an appliance or system, you contact your plan's provider to arrange it. Your provider then typically sends a service provider to your home to assess and remedy the problem. 
Again, depending on your plan, the cost of any repairs or replacements may or may not be fully covered. Plus, many home warranty plans charge what's called a "service call fee" or "trade call fee," which is a fee for having a service technician examine the problem before any repairs are attempted. While that fee comes out of your pocket, the warranty provider should pay for the rest of the repair or replacement. The amount or percentage the plan pays, plus any service call fees charged, should be clearly stated in the contract, so be sure to familiarize yourself with the details of the plan before purchasing it.
What does a home warranty plan cost?
What you pay for a home warranty will depend on the company you choose, how much coverage you want, and the plan you ultimately sign up for. According to This Old House, the average cost of a home warranty premium typically ranges between $25 and $50 per month, or $300 to $600 per year.
Are there downsides to a home warranty plan?
The obvious downside is that, if things go well, you may never use a warranty for which you're paying $300 to $600 a year. And, even if you do use it, you may end up paying far more in premiums than if you simply paid for repairs as needed out of pocket.
Let's say, for example, you pay $400 per year for a home warranty plan over the course of 10 years but only use it once, for a dishwasher repair that would've cost $200 out of pocket. That amounts to $3,800 over and above what you would've paid had you not opted for a home warranty plan.
Another downside of a home warranty plan is that you're typically obligated to use service providers under contract with your home warranty company, so you may be sacrificing your ability to choose a service company that you like or trust. 
Yet another con is that your warranty may not cover items that haven't been properly maintained—and defining what constitutes "proper maintenance" could become a bone of contention between you and your home warranty provider. The provider could opt to play the improper-maintenance card to deny covering an expensive repair or replacement, especially if they're a less-than-scrupulous company. 
You're going to want to carefully review which items are and are not covered by your plan, because you may think you have more coverage than you actually do. For example, if you have multiple refrigerators in your home, your plan may only cover repairs to the primary refrigerator in the kitchen and require you to purchase supplemental coverage for the rest of them.
So, should I purchase a home warranty plan?
There's no easy black-and-white answer to whether a home warranty plan is right for you. It depends on you, your home, and your financial situation. If you have ample cash reserves on hand, then you may not be worried about covering potentially costly appliance repairs out of pocket. On the other hand, if you're risk averse and want the peace of mind having a home warranty provides, then a monthly or annual home warranty payment may be well worth it to you.
Just be sure that, if you do decide to go the home warranty route, you do your homework. Research various providers and check out the reviews they've garnered. And be sure to read the provisions and stipulations of the service contract carefully before signing, so you know precisely what's covered, what's not, how much coverage you have, any limitations, and what you can expect from your home warranty provider if and when you need to put that warranty into action.