How Are Minimum Payments Determined?
---
Ever wondered how the minimum payment on your credit card bill is determined? Learn how it's calculated, what factors can impact your minimum payment, and more.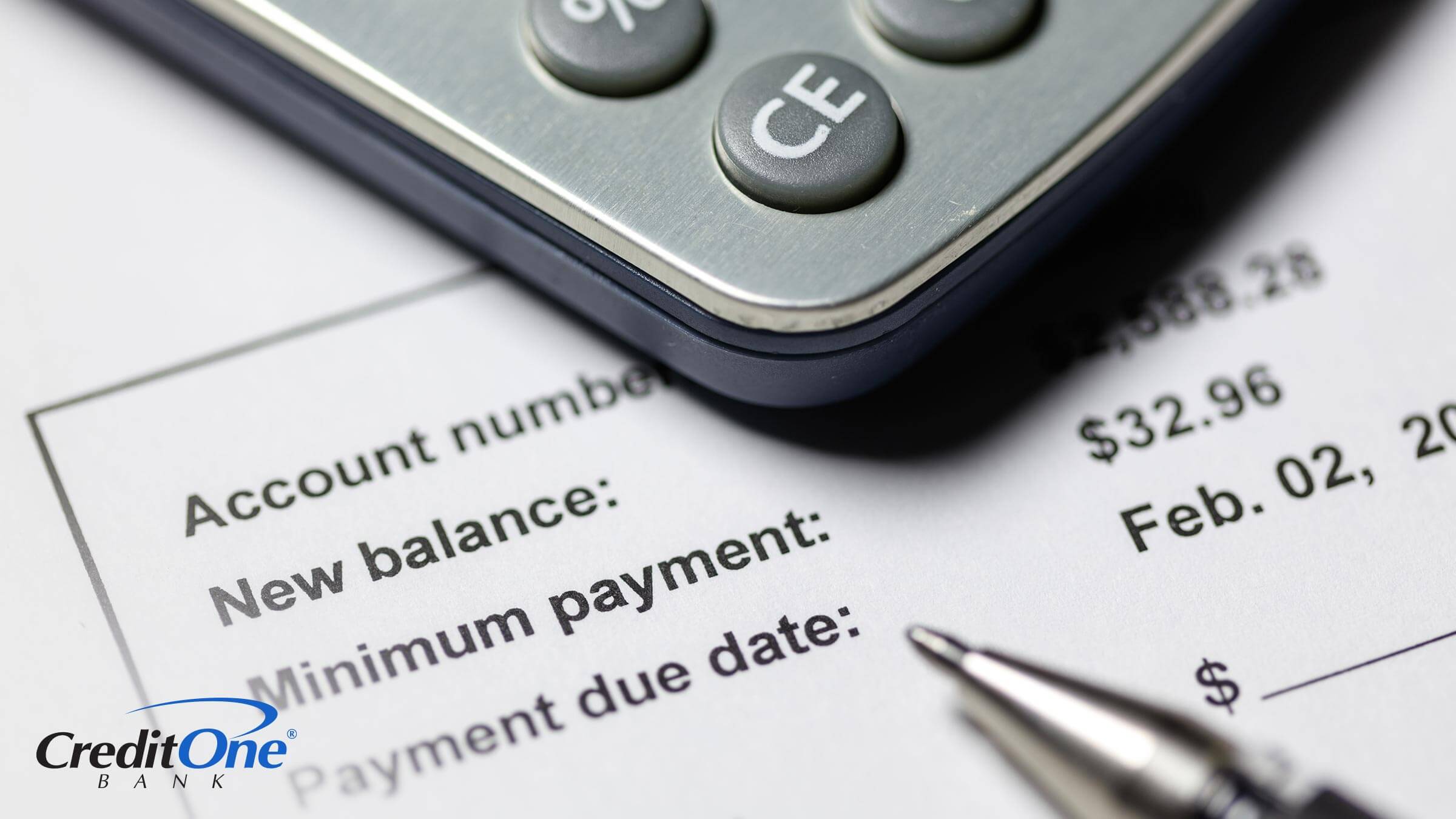 If you own a credit card (or have read many of the finely-crafted, educational articles on Credit One Central), you are probably aware that there's a minimum payment option on each credit card bill you receive.
The minimum payment is exactly what it sounds like—it's the lowest payment amount a card issuer will accept toward your balance each bill. And making at least the minimum payment each month will keep your account in good standing.
But have you ever wondered how minimum payments are determined?
How Is The Minimum Payment Calculated?
Minimum payment calculations vary from card issuer to issuer and likely depend on your current balance and interest rate.
While some issuers may include how they specifically calculate your minimum payment in your terms and conditions, there are some general methods that are used:
A flat percentage of your balance
Some issuers may use a flat percentage of your balance to calculate the minimum payment.
For example: If your balance is $900, including interest and fees, and your issuer uses a flat percentage—let's say 2%—then your minimum payment would be $18:
$900 x 2% (0.02) = $18 minimum payment
A percentage + interest + fees
Other issuers may charge a percentage of your balance and tack on any interest and fees that accrued during that payment cycle.
Say your balance is $900 before interest or fees, your issuer charges 1%, and you have $20 in accrued interest and $39 in late fees. Your minimum payment would be $68:
$900 x 1% (0.01) = $9
$9 + $20 (interest) + $39 (late fees) = $68 minimum payment
A flat rate
There are also instances where, if you have a balance lower than a certain threshold (determined by the issuer), you may be charged a flat rate—typically that full balance. For example, if your balance is $15 and your issuer's threshold is $25, then your minimum payment amount for that bill would be the full $15.
What Factors Affect The Minimum Payment?
Several factors can affect your minimum payment, including:
An increase or decrease in your balance (how much you spend or pay off)
A change to your interest rate
A previous late payment
Missing a payment or paying less than the minimum
Where Do I Find What My Minimum Payment Is?
To see what your monthly minimum payment is, all you have to do is look at your monthly statement—whether that's a paper statement through the mail or electronically through your online account or email. By law, your issuer must include a "Minimum Payment Warning" on your statement, disclosing how long it would take to pay off your current debt if you paid only the minimum each month.
You can also call your issuer and ask.
Also, as stated above, if you would like to know how your minimum payment amount is calculated, some issuers may include that information in your terms and conditions.
Does The Minimum Payment Ever Change?
Yes, your minimum payment can change. And there are numerous factors that can cause it to change (see the "What Factors Affect The Minimum Payment?" section above for a few of them).
The quickest way for your minimum payment to change is through your balance. The more you spend, the higher the balance, and the higher your minimum payment is likely to be. And vice versa—if you stop spending and focus on paying off your balance, your minimum payment should go down accordingly.
Your minimum payment can also change if you have any additional fees added on—such as a late payment fee from the previous month—or if your issuer changes your interest rate, perhaps due to a late payment or a promotional rate ending.
How Does Making The Minimum Payment Affect My Credit?
There are many reasons why you should make at least the minimum payment due on your credit card account. One big reason is the impact to your credit score if you don't.
While only making the minimum payment means it could take longer to pay off the entire balance, it is still an on-time payment—and making timely payments is one of the most important things you can do to improve your credit score.
Paying only the minimum on each statement could also impact your credit score by affecting your credit utilization ratio (CUR). Experts recommend keeping your CUR below 30%, so depending on how much revolving balance you have, making only the minimum payment could either bring your CUR above or below that level.
The Bottom Line
If you have a credit card with a balance, being aware of your minimum payment amount—and the factors that go into determining that amount—is very important. By paying at least your minimum payment, and doing so before your due date, you will stay current with your credit card.
However, if you are able to make timely payments for more than the minimum amount (as much as your budget could comfortably allow), you will pay off your balance much quicker, save money in interest, and potentially improve your credit score.