How to Save Money on Groceries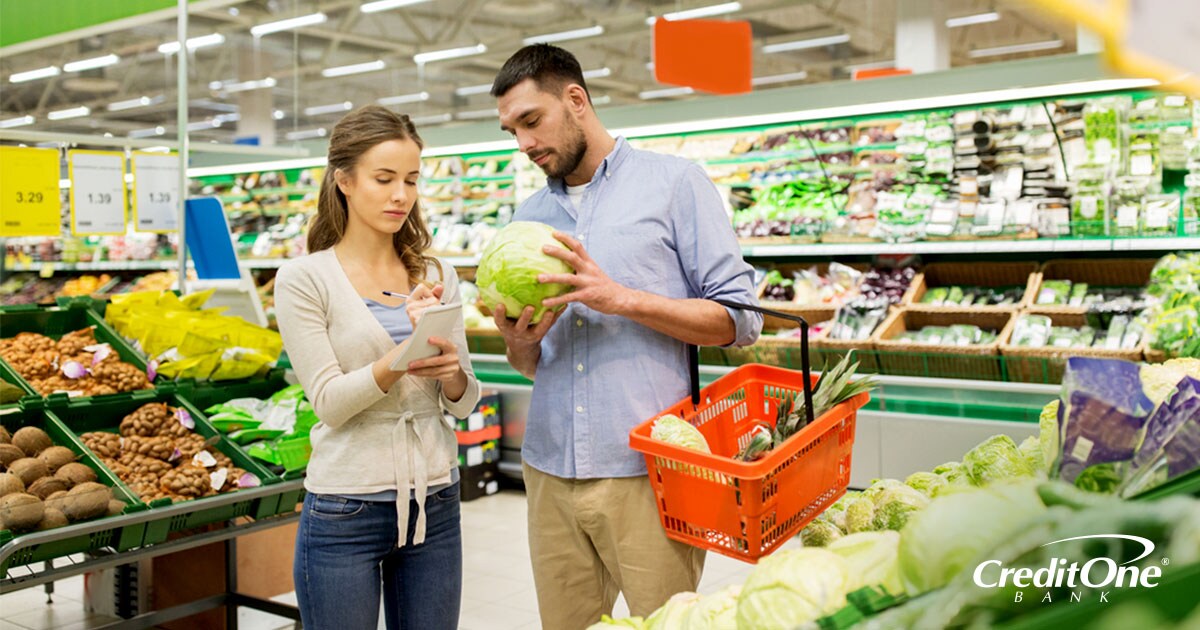 In 2016, the typical American household spent $6,224 on food. Think of how much more money you'd have in your pocket (or your savings account) if you could cut down your weekly grocery bill. If you are wondering how to save money on groceries, use these simple tips. When you proactively seek out grocery deals, implement smart shopping habits, and use the right credit cards, you can stay well within your budget.

Compare Food Prices and Save
The average U.S. consumer has a variety of stores to choose from when it comes to purchasing food. You've probably noticed that each store has its unique advantages—one may carry a wide selection of fresh fruits and vegetables, others may have unbeatable bargains on fish and meat, and some stores are great for stocking up on bulk items.
Your mission: price items at different stores and markets. Then create a strategy to help you buy the healthy food your family likes to eat at the lowest prices. For example, could you save money on groceries by picking up your soy sauce, sesame oil, and spices at your local Asian market? Try switching to generic brands next time you are shopping and see how much your grocery bill shrinks. Are fresh greens and local honey cheaper if you buy them from the Saturday morning farmer's market? Does the bakery down the street sell half-priced bread and bagels past 3 pm?
Love baking apple pies in the fall and berry crisps all summer? Then buy your fruit from your local orchard, or better yet, pay a fraction of what you'd spend at the grocery store by picking your cherries, apples, pears, and blueberries yourself at u-pick orchards.
With a strategic approach to your grocery shopping, you can create a money-saving plan of where to get different items each week. Another trick is to see if a store offers price matching. Then, bring in ads for bargains from multiple stores and save.
Get Organized
If you want to know how to save on groceries without having to hunt all over your house for clipped coupons and sifting through grocery aisles looking for bargains, learn to better organize your grocery shopping.
Keep your coupons in an organizer. That way, you can easily store and categorize your coupons, making it easy to access them when you shop.
Create a meal plan for the week and buy just what you need.
Bring a small calculator with you when you shop so you can figure out unit prices and make wiser purchase decisions.
Organize your food at home as well using the first in, first out method. Put new food behind older food so you avoid having to throw food out because it is expired.
Find and Make Use of Deals
When you take advantage of all the deals and promotions that are out there, you can stretch your dollar even further. Are you signed up to receive your favorite stores' e-newsletters? Do you follow your go-to markets on social media? Do you use the app for your favorite grocery stores? This is how you'll learn about the current deals without having to spend time searching for them.
When you do find a good deal, especially on the items your family loves to eat, stock up! Why buy one box of half-priced granola when you can get four and save even more money when you grocery shop? You can also create your own deals. See a damaged case or notice an overstocked item? Ask what kind of discount you can get for these items. Watch for deli and bakery products that are about to expire but are still good. Many grocers won't make you pay full price if you simply ask.
See if you can get a better price on meat at the butcher if you purchase a larger cut and have it trimmed. You can put your extra cuts in the freezer to enjoy later or split the cost with friends.
Use Grocery Credit Cards to Your Advantage
Do you use a specific credit card for groceries? Does it give you rewards when you buy food? You'll benefit if you find a credit card with grocery rewards like the Credit One Bank® Platinum Visa®. You can also use credit cards for groceries to track how much you are spending on food and how much of your budget is going towards each store.
Once you develop your grocery money saving habits, spending less will become second nature. With a smaller food budget, your overall household spending will totally transform, giving you more flexibility to meet your other financial goals—and to eat out once in a while guilt-free!
«

Return