What Is a Checking Account?
---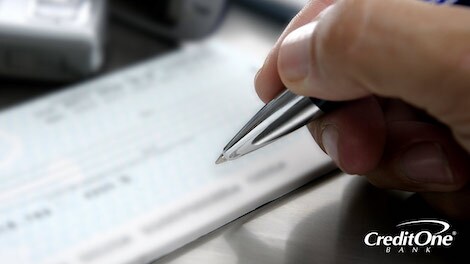 Thinking about opening a checking account? Learn more about what they are and how they work in this article by Credit One Bank.
Fewer and fewer people are writing checks these days. With so many payment alternatives, including cash, electronic transfers, credit cards, debit cards, Apple Pay, Google Pay, and more, check writing has steadily fallen out of fashion. According to a 2019 Federal Reserve study, from 2015 to 2018 check payments declined 7.2 percent per year by the number of checks written and 4.0 percent per year by the total value of checks written.
Despite these declines, having a checking account can be quite advantageous. It allows you to instantly transfer money—including large sums—with just a few quick strokes of a pen. It also provides a payment option should you encounter a business that doesn't accept credit cards and you don't have enough cash or a debit card on you. And checks provide a convenient paper trail to confirm that your payment was made and your check was cashed.

Still not sold on the value of writing checks? Read on to learn more about checking accounts.
What is a checking account?
A checking account is a vehicle used to transfer money from you to another entity, which may be a person, business, or other institution. With a checking account, you can deposit money into that account and subsequently use that money to make payments to others, typically by writing a paper check. That written check is then cashed or deposited by the check recipient, and funds in the amount of the check are transferred into the recipient's (or check casher's) account.       
Are paper checks the only way to transfer money from a checking account?
Having the ability to write checks on a checking account is the main reason for having a checking account, but there are other ways to transfer money from the account as well. Most checking accounts come with an ATM/debit card, so you can make purchases or ATM withdrawals that are funded from that account. 
You can also make electronic deposits and bill payments into and out of a checking account, just like you can with a savings account. For example, if your employer offers direct deposit, you could elect to have your paycheck deposited into your checking account instead of a savings account. Or, if you set up an automatic payment for, say, a content-streaming service, you can use a checking account for that as well.
Wire transfers in or out of a checking account are also possible, just like with a savings account.     
So, how does a checking account differ from a savings account?
Whereas a savings account is designed to hold money longer term in order for that money to accrue interest and grow, a checking account is more of a transactional account.  While it's true that some checking accounts do pay interest, checking account interest rates are typically lower than interest rates offered by savings accounts, particularly high-yield savings accounts. Money in a checking account is generally kept there for a shorter period of time, typically to help an account holder pay for purchases and day-to-day living  expenses.
Do I have to open a checking account in conjunction with a savings account?
You can open a checking account on its own without also opening a savings account. However, it doesn't make fiscal sense to keep too much money in a checking account if you could earn more interest in a savings account, so it may be a good idea to have both accounts with the same financial institution, so you can easily transfer money back and forth. Both accounts don't have to be from the same institution, but there may be higher or additional fees for transferring funds between accounts issued by two separate banks or credit unions.
Is my money safe in a checking account?
Money in a checking account opened with a bank is federally insured by the Federal Deposit Insurance Corporation (FDIC), up to $250,000 per account owner, per insured bank. If the checking account was opened with a credit union, it is federally insured by the National Credit Union Association (NCUA) for up to $250,000 per share owner, per credit union.
Are there fees associated with a checking account?
Checking account fees vary by institution. Some of the more common checking account fees include but are not limited to:
Monthly Service or Maintenance Fee: This is a fee charged by a bank or credit union for maintaining and servicing your account. You can avoid this fee by opening a no-fee checking account. Or, you may be able to waive this fee by meeting certain requirements, such as maintaining a minimum balance or opting for electronic statements.
Overdraft Fee: This is a fee charged for writing a check with insufficient funds. If the account issuer offers overdraft protection, they will cover the check but charge a fee of up to $35 per check.
Non-Sufficient Funds (NSF) Fee: If your financial institution doesn't provide overdraft protection and your check "bounces," you may be charged an NSF fee, which may be up to $35 per check.
ATM Fees: If you use an ATM outside of your financial institution's network, you may be charged a fee for each transaction made at an out-of-network automated teller machine. 
What do I need to open a checking account?
To open a checking account with a bank or credit union, you will be required to fill out some paperwork and to provide proof of your identity with a government-issued document, like a passport or driver license. You'll also need to provide your Social Security number and may need to show something that verifies your address, such as a utility bill in your name. 
Lastly, you'll need to make at least the minimum deposit required to open the account. Many checking accounts can be opened for as little as a $25 deposit; however, the initial deposit could be higher, depending on the financial institution. 
How much money should I keep in a checking account?

There's no hard, fast rule as to how much money you should keep in a checking account except one: DON'T KEEP MORE THAN $250,000 IN THE ACCOUNT. That's because the account is only insured up to $250,000, so any money over and above that amount could be at risk.
As mentioned, you probably don't want to leave too much money in a checking account if there are opportunities to earn more interest elsewhere, such as in a savings account. But you will want to leave more than enough in the account each month to cover your anticipated monthly expenses, if you plan on writing checks or doing electronic payments to cover them. While you're always free to deposit money into a checking account or transfer money from another account, you don't want to cut things too close. If you write a check for funds you don't have, you could be subject to an overdraft or insufficient funds fee.  
Depending on the checking account, there may also be a minimum balance that must be maintained, so you'll want to leave at least that much money in the account or you could be subject to a monthly maintenance fee. 
A checking account is a convenient way to pay bills, even if you rarely write checks. Having one as part of your financial portfolio could come in handy, especially if you need to make a payment quickly or other forms of payment aren't accepted.