The Invention of Credit Cards
---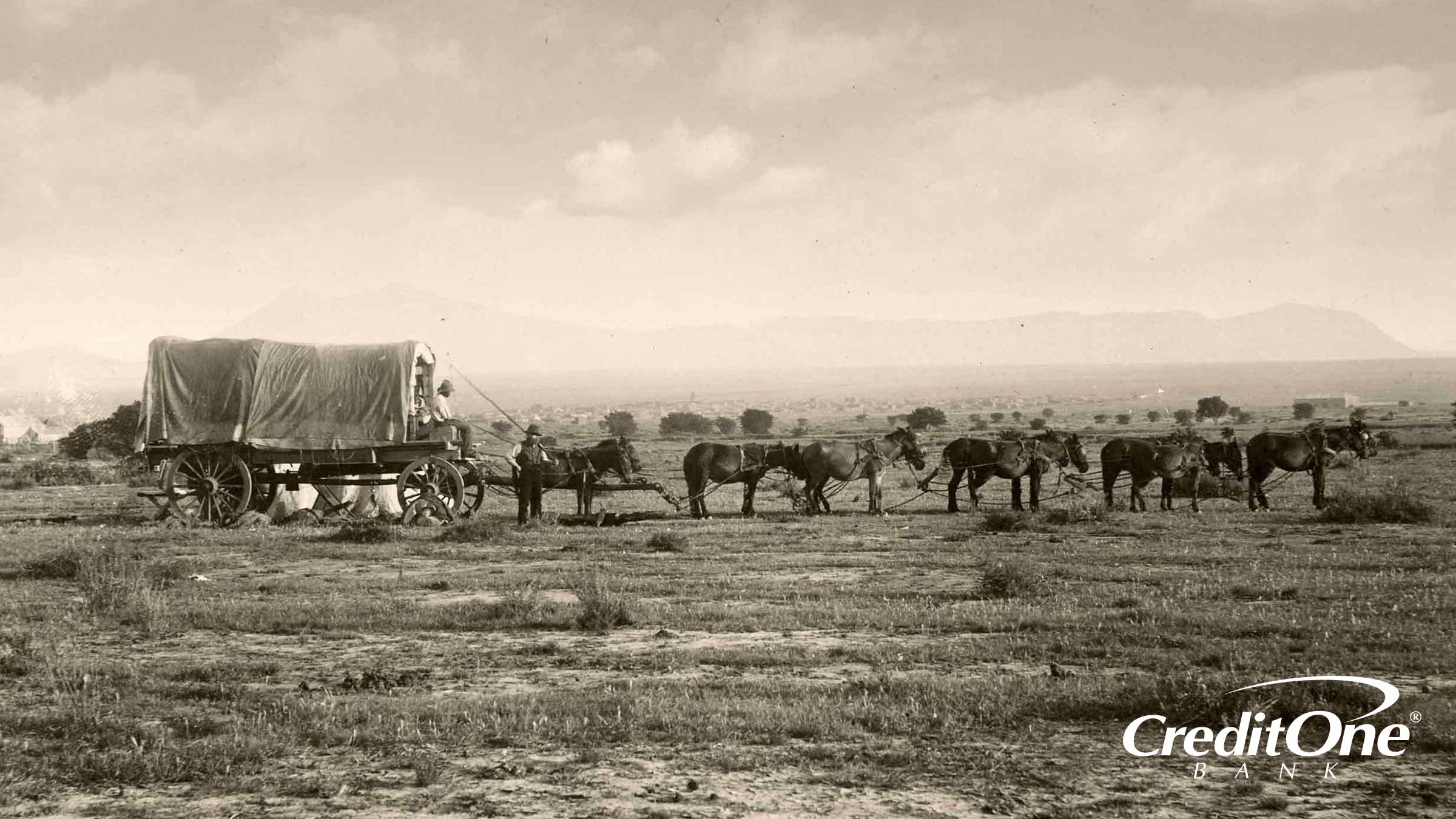 The concept of credit—purchasing something now in return for payment later—has been around for thousands of years. Five-thousand-year-old old texts from ancient Mesopotamia exist, recording accounts of clay tablets being used as instruments for conducting trade, sort of like earthen credit cards. But when did actual credit cards like the ones you carry in your purse or wallet today materialize?
To trace the origin of modern-day credit cards, we'll skip ahead from ancient Mesopotamia to the westward expansion of America during the 1800s. 

1800s - Charge Plates & Credit Coins
Back when the American West was being settled, some merchants would extend ranchers and farmers credit and issue them coins or plates. Since farmers and ranchers were typically cash-strapped until after they harvested their crops or sold livestock, merchants issuing these plates and coins would allow bills to go unpaid until their customers had a chance to sell their crops or livestock.   
Early 1900s – Store & Oil Company Cards
Some U.S. department stores and oil companies began issuing their own proprietary cards that granted credit to customers. These cards were only good at the merchants that issued them and were designed more to nurture customer loyalty than to offer the convenience of paying with credit. 
1946 – The Charg-It Card
In 1946, banker John Biggins from Brooklyn, introduced the Charg-It card and convinced a handful of local New York merchants (most within a few blocks of the bank) to accept it as payment. Biggins' bank, Flatbush National Bank, would then reimburse merchants for charges made with the card and later collect payment from card holders. The Charg-It is was technically a "closed-loop" charge card, not a credit card, because it was only good with select merchants and the entire balance owed was due by the payment due date. An outstanding balance could not be carried on the card from one billing cycle into another. 
1950 – The Diners Club Card
Frank McNamara forgets his wallet while attending a business dinner at a local New York restaurant and comes up with the idea, along with his partner Ralph Schneider, to create a card that allows diners to purchase meals and other services on credit. Their Diners Club card launches in 1950 and, in its first year, becomes accepted by 28 restaurants and two hotels, while its membership grows to 10,000 card members. The Diners Club card was also considered a charge card because the entire balance owed was due at the end of each billing cycle. 
1958 – The American Express Card
Building on the success of the Diners Club card, American Express, a company that had been around since 1850, launched its own charge card.
American Express introduced the first plastic card in 1959 and became the first internationally accepted charge card. Within five years, there were one million American Express cards in use, accepted by 85,000 merchants worldwide. But the American Express card was still a charge card, not technically a credit card.
1966 – BankAmericard (Visa®) & Master Charge (Mastercard®)
California-based Bank of America was the first company to introduce a true, general-purpose credit card nationwide. It was a true credit card in that card members were not required to pay the entire balance owed at the end of each billing cycle. They could instead elect to make at least the minimum payment owed by the due date and carry a balance on the card. BankAmericard would officially change its name to Visa® in 1976.
That same year in California, a group of California-based banks joined to form the Interbank Card Association (ITC) and issued the second general-purpose credit card for national use. It was first known as the Interbank card, then changed to Master Charge, and eventually became Mastercard® in 1979. 
So, the answer to the question, "When was the credit card invented?" is technically 1966. This is the year BankAmericard—an actual general-purpose card that was accepted nationwide and didn't require an outstanding balance to be paid in full at the end of each billing cycle—debuted. However, all of the other milestones leading up to BankAmericard's release clearly contributed to the launch of the credit card.
It's worth noting a few other significant milestones since the release of the credit card. They include, but are not limited to, the following:
1968 – Truth in Lending Act Takes Effect
This was the first in what is a now long line of credit card legislation.
1980s – Magnetic Stripe Verification Technology
IBM released the technology for that magnetic strip on the back of many credit cards in the 1960s; however, it didn't become adopted globally until the 1980s.
1986 – The First Rewards Credit Card Launches Nationally
Discover card, the first national rewards credit card, was unveiled in a 1986 Super Bowl commercial.
1994 – EMV "Smart Chip" Technology Launches in Europe
EMV chip technology—which stands for Europay, Mastercard, and Visa—started in Europe as a more secure option than the magnetic stripe, but it didn't get adopted in the U.S. until after 2010.
2004 – Contactless Cards Debut in the U.S.
Contactless cards were used for the first time in the United States in 2004. Four years later, in 2008, Visa, American Express, and Mastercard all began offering contactless credit cards to customers.
Ready  for a credit card of your own? See if you Pre-Qualify for a Credit One Bank card. It takes less than a minute and won't harm your credit score!