Travel to New York on a Budget
Top 5 Ways to Save Money in NYC
---
Visiting New York City on a budget might be challenging, since it's well-established as a pretty pricey destination. But if you know these insider secrets, it's definitely possible to have fun while saving money in one of the country's most fascinating and historic cities.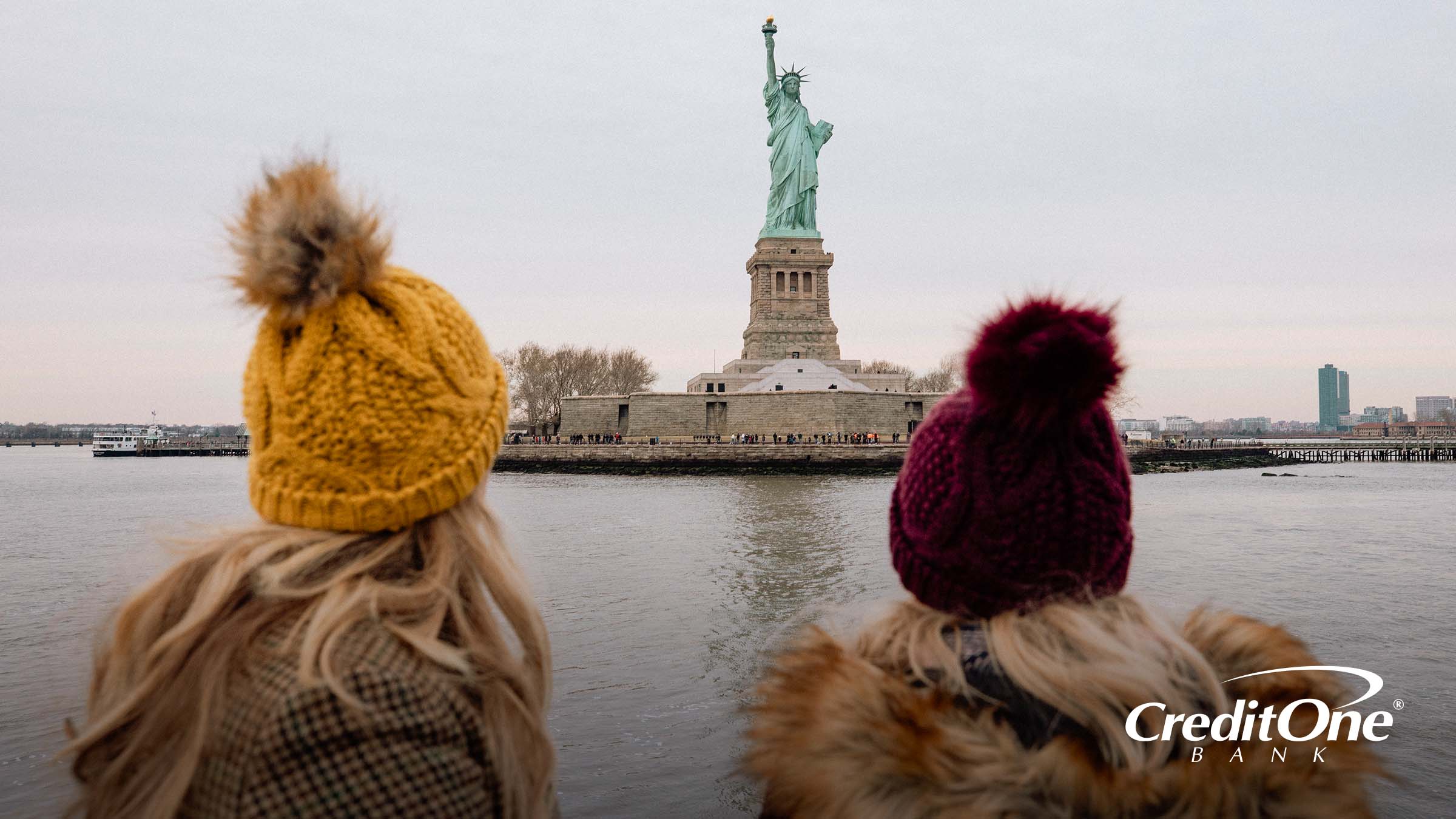 New York is one of the most expensive cities in the country, so it's not always easy to vacation there on a budget. But like almost anything, a little bit of knowledge and planning can get you more for less.
Here are the Top 5 ways to maximize your dollar and strategically save money while still having an amazing time in New York City.
1.   Save on Lodging
Instead of staying right in the heart of Manhattan, which is home to some of the most expensive hotels in the country, consider looking across the river or using other money-saving tips.
Stay in another borough
New York is more than just Manhattan. It has five boroughs, and the other four—Queens, Brooklyn, The Bronx, and Staten Island—have considerably lower-priced lodging options.
While choosing to stay too far off the beaten path is going to significantly increase your transportation time back and forth, Queens has several lower-priced chain hotels just across the East River from Manhattan, and most even include breakfast.
Stay at a home rental
Forgoing the major hotels might allow you to stay in the heart of the city for a much lower price. Home-rental services like Airbnb and Vrbo (originally called Vacation Rental By Owner) have become more and more popular in the past couple of decades, and definitely present an option. They're not always cheap, but digging often turns up some gems. While New York has pretty strict rules for short-term rentals, you can find legal shared spaces, private rooms, townhomes and even boutique hotel rooms.
Use a rewards card
No matter where you stay, you can save money by using a credit card that gives you points or cash back on travel and lodging. For example, Credit One Bank's new Wander® Card offers 10X rewards points on eligible hotels and car rentals booked using their travel partner, directly through your online account. You can also get 5X rewards points on other eligible travel, dining, and gas buys, and 1X rewards points on all other purchases.
2.   Save on Transportation
New York drivers are notoriously aggressive, so renting a car might not be your first choice in this city. Taxis and rideshare services are always an option, but they can put a serious ding in your budget. Luckily there's a robust public transit network you can use instead, for very little money.
Subway system
You can ride the New York City Subway nearly anywhere you could want to go for less than $3 a trip, with free transfers to local buses. Or snag an unlimited weekly MetroCard for just over $30, plus $1 for the card.
Ferry system
The Staten Island Ferry is free, and we'll go into another reason why that's so cool in the next section. But just on its own, this ferry is a piece of history from before the bridges were built, and it ships 70,000 passengers a day on a 5-mile, 25-minute ride between Lower Manhattan and Staten Island. Even better, it cruises back and forth 24/7.
Then there's the more expansive NYC Ferry system, with close to 10 routes that cost the same as the subway—less than three bucks for a one-way fare. The ferry service connects the New York boroughs of Manhattan, Brooklyn, Queens, Staten Island and the Bronx. And the boats even have onboard concession stands and bars.
3.   Save on Sightseeing
You can spend a lot of money visiting the famous landmarks throughout New York City. But you can also see many of them for free, or with very little cash. We'll start in the southern tip, or Lower Manhattan, and work our way up.
Statue of Liberty
You can travel straight to Liberty Island and Ellis Island by purchasing ferry tickets, and the museums are free to enter. But depending on the size of your group, this can add up pretty quickly.
To save money, opt for a free excursion that gives fantastic views from the harbor. The Staten Island Ferry goes right past Lady Liberty, and as previously mentioned, it doesn't cost anything. Ride on the right side of the boat as you head from Lower Manhattan to Staten Island, and on the left as you come back from the island.
Ground Zero
If you want to pay homage and respect to the victims of the attack that changed the world, there are many ways to do that near Ground Zero, where the World Trade Center Twin Towers stood until September 11, 2001.
The Sphere is the only work of art retrieved from the rubble, mostly intact, after 9/11. This 25-foot-tall, 20-ton bronze ball lived between the Twin Towers for 30 years, and it's on display in its current state at Liberty Park.
The 9/11 Memorial honors the nearly 3,000 people killed in the attacks, and it is free to view. Two reflecting pools have replaced the Twin Towers, with the victims' names etched in the railing. The accompanying 9/11 Museum has an admission price, although Mondays are free from 3:30 to 5:00 pm (book your free tickets the same day starting at 7:00 am). 
One World Trade Center, also known as Freedom Tower, now stands on the north side of the 9/11 Memorial. At 1,776 feet tall (to match the year of US independence), it's the tallest building in the Western Hemisphere. Tickets to the 102nd floor of One World Observatory cost money, but it's free to admire the building from its base.
And to the east you'll find The Oculus, a steel building designed in the shape of a flying dove. This unique structure has a shopping mall and train station inside, but you can go in and check out the artistic architecture for no cost.
Financial District
The New York Financial District is world famous and has been featured in a ton of movies. Think Wall Street and The Wolf of Wall Street for starters, but some of the names are less obvious, like The Big Short, Boiler Room and the classic Trading Places.
You can take a stroll down Wall Street for free, feeling like a bigwig as you stop at the corner of Broad Street to gaze at the New York Stock Exchange, one of the world's top financial markets. This is the original home of the famous 3.5-ton Charging Bull sculpture, a symbol of tenacity and prosperity created by Italian artist Arturo Di Modica in the wake of the 1987 Black Monday stock market crash.
After the artist secretly put the bull by the stock exchange under cover of darkness, it was moved to its current spot at nearby Bowling Green. Join the estimated 1,000 tourists who stop by each day to take photos and rub the bull's nose (and other parts) for good luck.
Greenwich Village
This quaint neighborhood is home to the friends from Friends, the iconic TV show that set trends for a whole decade. Much of the action was set at the apartment building on the corner of Bedford and Grove. But the entire area is a nice place to explore.
This is also the neighborhood where Carrie Bradshaw lived on Sex and the City. In fact, you can walk there—Perry Street east of Bleecker Street—in five minutes or less from the Friends apartment.
Midtown Manhattan
Within a span of less than 20 city blocks, you'll find three of the most recognizable historic buildings in the world.
The triangular Flatiron Building was built in 1902, and at the time was one of the city's tallest buildings at 22 stories high. You've seen it in countless movies and TV shows, even standing in as the Daily Bugle in the original Spider-Man trilogy with Tobey Maguire.

While you can't go past the first floor of this office building, you can get a great view of the Empire State Building when you stand with the Flatiron's point at your back.

The Empire State Building, with its unmistakable art deco style, was built in 1931. The world's first skyscraper to have over 100 floors, it boasts 102 stories and stands 1,454 feet high. It was the world's tallest building until 1970 when the Twin Towers were completed—which explains why King Kong climbed the Empire State Building in the 1933 version of the film, but chose the World Trade Center for the 1976 remake.

Going up to the observation deck is pretty pricey, but this office building is beautiful from the ground as well.

The Chrysler Building, another art deco gem, was built in 1930. At 1,046 feet tall, it was the world's tallest building for 11 months until the Empire State Building took the title. However, it remains arguably the more striking of the two, with its iconic steel crown design.

Like the Flatiron building, only the lobby is open to the public these days, but the skyscraper can be enjoyed from many vantage points in the city.
Other quintessential landmarks in Midtown Manhattan include the New York Public Library with its stone lions guarding the doors, Grand Central Terminal, Times Square, and the Rockefeller Center, including Radio City Music Hall.
If it's Christmas time, be sure to see the famous Rockefeller Center Christmas Tree and ice-skating rink. Top of the Rock is the observation deck, but it does cost money.
A better option for free views and breathtaking photography is The High Line, a public park built on an elevated abandoned rail line. It runs from Greenwich Village through the Meatpacking District to Midtown Manhattan and includes a tiered overlook, live music and dance performances, and large-scale experimental artworks among gardens and grasslands.
You can also go window shopping along Fifth Avenue without spending a penny.
Central Park
Everybody's heard of Central Park, and no visit to New York is complete without experiencing at least a corner of this 843-acre oasis. Join the over 42 million visitors who enjoy the park each year, not to mention the characters from at least 350 movies that have been shot here.
There are literally hundreds of things you can see and do for free in this famous park, from statues like Alice in Wonderland and Hans Christian Andersen, to monuments like Strawberry Fields and Beethoven's bust, to movie landmarks like Bow Bridge and Bethesda Terrace & Fountain.
If you prefer a guided tour to any of the landmark locations in this article (plus so many more), check out Free Tours By Foot for pay-what-you-wish walking tours.
If you really want to go inside some of these attractions while still saving money, take a look at the various combo passes available, like CityPASS, Go City or the all-inclusive Sightseeing Pass. Most of the packages also include entrance to museums and hop-on-hop-off bus tours.
Use your travel-focused credit card to get points or cash back from these purchases, saving even more.
4.   Save on Entertainment
Museums
The aforementioned sightseeing combo passes are probably the best way to save money on museum entry if you'd like to visit several of them. Otherwise, some museums have pay-what-you-can or discounted options.
Live Theatre
Taking in a hit show can be expensive, but not if you know where to find the deals. You can get same-day theatre tickets for up to 50% off at local booths, and other discounts on websites and mobile apps. In addition, box offices at the actual theatres sometimes offer same-day rush tickets, pre-show lotteries or standing-room-only (SRO) specials.
TKTS Discount Booths, operated by the not-for-profit Theatre Development Fund, offer same-day tickets to Broadway and Off-Broadway shows for up to 50% off. The Times Square location has been operating for almost 50 years.
Playbill magazine gives full listings and links for all the Broadway and Off-Broadway shows offering rush lines, lotteries, SRO deals and otherwise inexpensive or discounted tickets.
TodayTix is arguably the most popular mobile app for finding discounted show tickets, and you can purchase up to a month in advance rather than waiting for the day of the performance and standing in line. Virtual rush lines and lotteries are also often held through the app.
Live Sports
With metropolitan New York being home to at least two major league teams in each of the biggest sports (baseball, basketball, football, soccer and hockey), chances are you can catch a home game while you're in town.
NYC.com promises you can save more by buying through "New York's Box Office." They have tickets to all the sports games as well as other live events, and if you prefer to order by phone, just call 1-888-VISIT-NY any time.
NYCgo.com, run by NYC & Company—the official convention and visitors bureau—is another reputable option for picking up tickets to sporting and other events.
Gametime is a third alternative, also offering tickets to sporting events, concerts, theatre and other shows. But this site has a companion mobile app as well, where you can get discounted last-minute tickets, instantly shareable with your friends.
5.   Save on Dining
Eating out in a world-class city like New York can obviously cost a pretty penny. But if you know some tricks and tips, you can keep more money in your pocket while enjoying your culinary treats.
Purchase a deal
Plenty of great deals can be found on Groupon and other coupon sites, with discounts at restaurants often reaching 50% or more. Cuisine categories run the gamut from American to Italian to Asian to Mexican.
Get a pass
You can pick up an Eat and Play Card for $20, which is good for up to four people for 10 days. This gives you discounts of 10% to 50% on a wide range of bars, restaurants, attractions and more. You can even save on a few musicals, and get shopping discounts at certain retail stores.
Take a lunch break
Eating out at a restaurant for lunch saves you money over the dinner menu because typically the meals are smaller. You can also find bottomless brunches throughout the city on weekends, and Happy Hour specials during the week.
Grab a meal on wheels
Food trucks and hotdog carts are pretty much everywhere, parked on street corners in the Financial District, Midtown, and near Central Park. Hot dogs usually cost less than 5 bucks, while food truck meals top out at under $10.
Stock up on groceries
You don't need to eat out every time you're hungry. Stock up your motel fridge with premade snacks and meals from the supermarket, or go grocery shopping like at home to cook in your rental.
You can also take a picnic to the park. Central Park doesn't allow grilling, except on Memorial Day, July 4th and Labor Day (and you have to bring your own charcoal BBQ). But some other parks do allow it any time, as long as you follow the rules. That includes no propane and no open fires.
So yes, you really can enjoy a vacation to a great city like New York while still sticking to a budget. For added savings, be sure to take along a credit card that gives you points on your travel purchases, like the new Wander Card from Credit One Bank.