Using a Credit Card for Wedding Expenses
---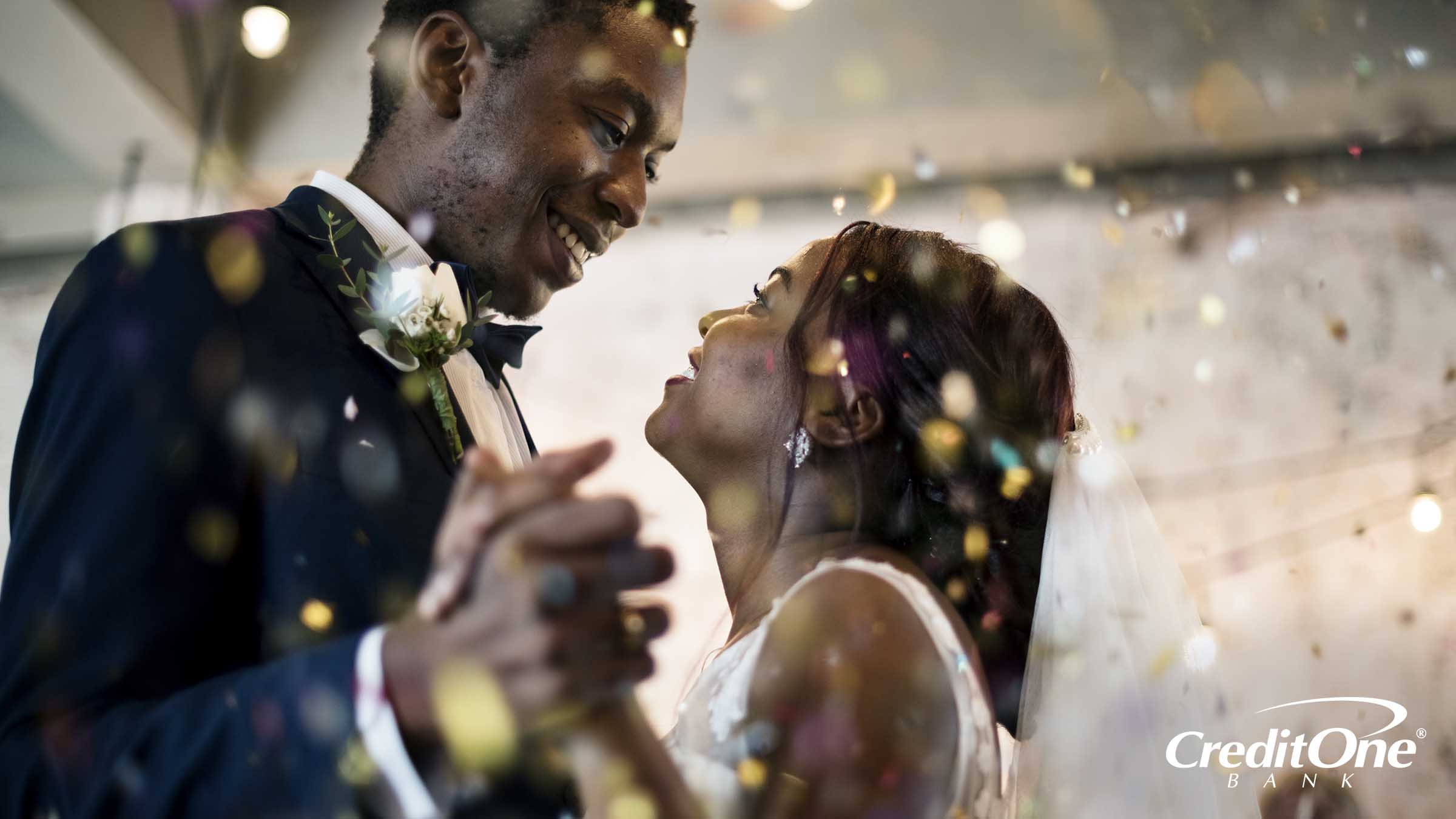 Planning your wedding can be both exciting and overwhelming. From choosing a venue, deciding on the guest list, to planning every ceremonial detail, there's plenty to consider in preparation for the big day. With the average wedding ceremony and reception costing $28,000, you and your partner may need to make some hard money decisions to avoid bankrupting your marriage in order to pay for your wedding.
Saying "I do" to a new life together doesn't mean you have to embrace unnecessary debt in pursuit of your dream wedding. If family assistance and personal savings come up short, you might have concerns about how you'll cover the remaining costs. Credit cards could be an option. But you'll want to use them wisely and to your advantage. Consider these tips before deciding to use your credit card to pay for a wedding.
Say "I Do" To:
1. Cashing in on Sign-up Bonus Offers
Opening a new rewards credit card that offers a lucrative sign-up bonus to pay for wedding costs could help offset some major expenses. The sign-up bonus is usually in the form of cash back rewards, points, or travel miles, and you are typically required to make X amount of purchases with the card within X amount of days, say, $3,000 in the first three months of having the card.  
Wedding costs can add up fast, so paying for your big day with such a credit card could be an excellent opportunity to meet the minimum spending requirements—and probably then some—in order to earn the bonus being offered.
2. Earning Credit Card Rewards to Offset Wedding Costs
If you already have a great rewards credit card, you may be able to use it to pay for wedding expenses to rack up cash back, points, airline miles, or other rewards quickly. And remember, these are in addition to any sign-up bonus if it's a new credit card offering such a bonus. Just be sure to pay your balance off in full when your statement arrives. Otherwise, the interest and any fees you pay could add up to more than the rewards you earn.
3. Taking Advantage of a Promotional Interest Rate
If you plan on putting wedding purchases on a credit card but can't afford to pay the card balance in full each month, then you may want to search for a credit card that offers a no- or low-interest promotional interest rate, which lowers your cost of financing purchases on the card. For example, if your card offers 0% interest on purchases for the first year, you could use your card to foot the bill for your wedding and pay no interest for 12 months. This gives you more time to pay back your purchases without accruing interest charges. Just be sure to pay off your balance before the promotional rate expires.
4. Borrowing Only What You Need
Banks may offer personal loans to help pay for a wedding, but some lenders don't provide loans in lower dollar amounts. A credit card essentially provides you with an instant loan, so it could give you more flexibility. Using a credit card lets you customize how much you borrow since you don't have to request a specific amount of cash like you would for a personal loan. So, if you only need a loan to rent a space for your reception, then only put that amount on your credit card. Again, be sure to pay off the balance as soon as possible to avoid excessive interest charges.  
Say "I Don't Think So" To:
1. Paying High Interest or Unnecessary Fees
If you finance the wedding with a credit card but aren't able to secure a low- or no-interest introductory APR, you could pay more in interest and fees. The longer it takes to pay off the balance, the more interest you're likely to pay.

If you're considering opening a new credit card just for wedding purchases, make sure the benefits you'll earn with that credit card—rewards, sign-up bonuses, introductory interest rates, etc.—outweigh any fees you'll pay for the new card.
2. Sacrificing Your Credit Score
Applying for a new credit card could cause your credit score to take a small, temporary dip due to a hard inquiry. Expect, however, to see a further decline if you use all of your available credit. Potential creditors often equate a high credit utilization ratio with high-risk borrowers. If you or your partner plan to buy a home or car after you tie the knot, remember that a high credit utilization rate, over 30%, could cause your credit score to go down.
3. Taking a Cash Advance
A cash advance is a tempting option for getting some extra cash for your wedding day. But credit card issuers typically charge cash advance fees and higher interest rates on cash advances than for regular transactions. These extra charges could lead to additional debt, making it more challenging to pay your bill for that cash advance when it comes due.
4. Spending More Than You Can Afford
Financing a wedding you can't afford can be a recipe for financial troubles down the road. With so many options available for creating your dream wedding, it's easy to overspend. The best way to keep from overspending is to develop a budget and then stick to it. Before establishing a budget, talk to your partner about their expectations. Then, agree on a wedding budget and how you'll pay for each expense. Careful planning and strategizing when and where to use a credit card could help you to take advantage of all of the benefits a credit card has to offer and avoid any of the potential downsides.
Exchanging vows with your beloved and walking down the aisle hand-in-hand are the memories you'll want to cherish forever. But exercising some restraint and strategic credit card spending on your wedding could pave the way for a smoother marriage. Especially given that money and finances nearly always rank as one of the main things married couples argue about.