'Tis the Season to Be Jolly—and Charitable
The end of the year may be associated with the holiday season for most of us, but it's also known as "The Giving Season" amongst charities. According to a 2016 CBS News report, many charities receive up to half of their annual donations during the five weeks between the Tuesday after Thanksgiving ("Giving Tuesday") and New Year's Eve.

With 2016 charitable donations topping $390 billion, soliciting holiday-season contributions is big business. And with all of the hurricane-associated damage that hit the U.S. and Puerto Rico prior to this holiday season—when over $350 million was raised for Hurricane Harvey alone in the first three weeks—competition for your 2017 year-end donations promises to be fierce.
Many charities receive up to half of their annual donations during the five weeks between the Tuesday after Thanksgiving ("Giving Tuesday") and New Year's Eve.
Most People Plan to Donate Over the Holidays
An Ask Your Target Market (AYTM) survey last year found that 47% of respondents said they were "at least somewhat likely" to donate to charity at some point during the 2016 holiday season.
Credit One Bank did its own survey this year, contacting over 18,000 card members in September 2017. More than 79% of the nearly 1,000 respondents told us they plan to donate money to charity during the 2017 holiday season. How much they plan to donate is broken down in the graph below.
How much do you plan to donate to charity this holiday season?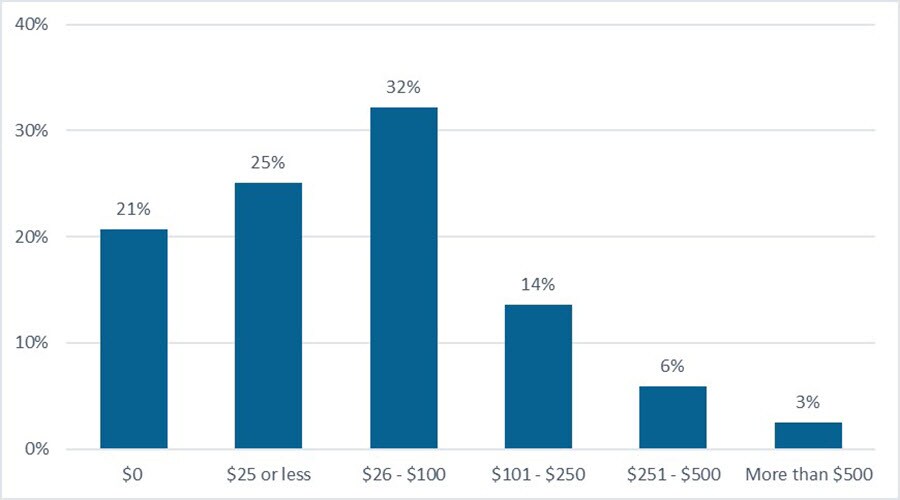 Most Credit One Bank card members surveyed plan to donate between $26 and $100 to charity during the 2017 holidays.
Choosing a Charity

With so many charities vying for donations during this hectic time of year when budgets are already stretched by the added expense of the holidays, you might expect donors to do a fair amount of homework before parting with their hard-earned dollars. But that's not what much of the research indicates.
The Money for Good 2015 report revealed low levels of research from donors, with only 38% of those surveyed researching at least one donation per year, and only 9% comparing charitable organizations before giving.
Just under 25% of surveyed Credit One Bank card members choose "personal research" as a method to help them determine which charities they will donate to, while "past donations made" is the #1 choice. Many of our card members also prefer to let their employer or church decide for them, with 34% of respondents selecting "I will donate through work and/or church."
Which of the following will help you determine which charities you donate to?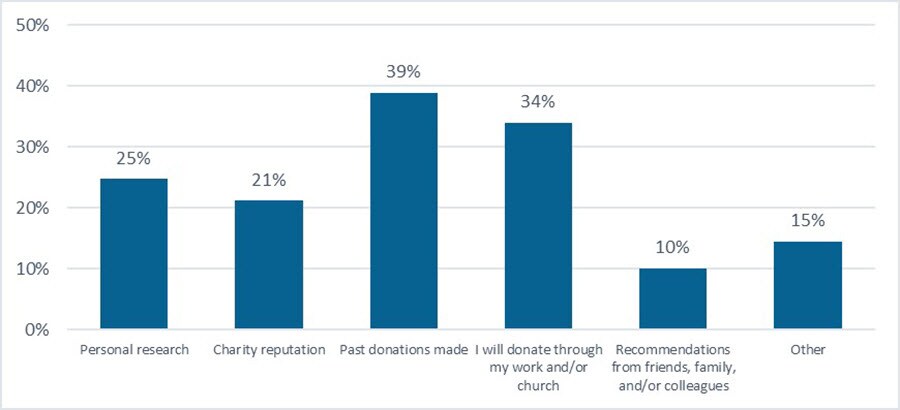 Making the Most of Your Giving

So if you're not basing your holiday charitable donations on past giving or leaving it up to your employer or church, what can you do to make a better-informed decision before giving? Here are a few things to consider before making this year's holiday donations:
1. Donate to Charities That Mean Something to You Personally
The more a charity's mission coincides with your own personal life, the more satisfaction you're likely to feel from your donation. So, for example, if you have a grandparent or parent who suffers from Alzheimer's, a donation to a non-profit organization like the Alzheimer's Association may appeal to you.

2. Give to Charities That Mean Something to Those Close to You
If there isn't a charity with which you strongly identify, consider giving to a non-profit your family or friends support. Your loved one(s) will appreciate your donation—if you choose to tell them—and you'll get a sense of satisfaction knowing you're helping an organization that's important to someone who's important to you.
3. Choose Charities That Reflect Your Values
You're probably not going to donate to a non-profit like the ASPCA if you're not an animal lover, but figuring out whether a charity's mission aligns with your values is not always quite so obvious. Thankfully, it's relatively easy to research a charity's mission statement by either visiting their website or entering their name into the search field on charity-evaluator websites such as GuideStar or Charity Navigator.
4. Maximize Your Donation's Impact
The simple truth is that your donation will go further in accomplishing some charities' missions than others'. This depends on a wide range of variables, including the size of the charity, the scope of its mission, overhead and fundraising costs, and more.
One way to double the impact of your giving is to donate through an organization that will match your donation. Many employers, for example, will match your charitable donation if you make it through them. Charity Navigator and websites like Matching Gift Search feature search fields in which you can enter a company name to see if they offer gift-matching.
Along with Charity Navigator and GuideStar, there are other websites such as CharityWatch and GiveWell that evaluate and rank charities to help you make better-informed decisions on your giving.
Volunteers are almost twice as likely to donate to charity as non-volunteers.
5. Volunteer Your Time
Nearly 60% of Credit One Bank card members who responded to our holiday survey plan to volunteer their time this holiday season. Volunteering is a great way to know your contribution is making a difference because, with many types of volunteer work, you can literally see the charity's mission being accomplished as you're there, helping accomplish it. For example, if you're feeding the homeless, you're interacting with them as they eat. Or, if you're volunteering to build housing for low-income families, you're seeing the structure materialize before your very eyes.
Here's another philanthropic benefit from people volunteering: Volunteers are almost twice as likely to donate to charity as non-volunteers. While it's not clear whether volunteering encourages volunteers to give money or whether those who give money are more inclined to volunteer, it does make a case that giving begets even more giving.
And charities will take all the giving they can get during the Giving Season.
«

Return