Using a Credit Card to Donate to Charity
---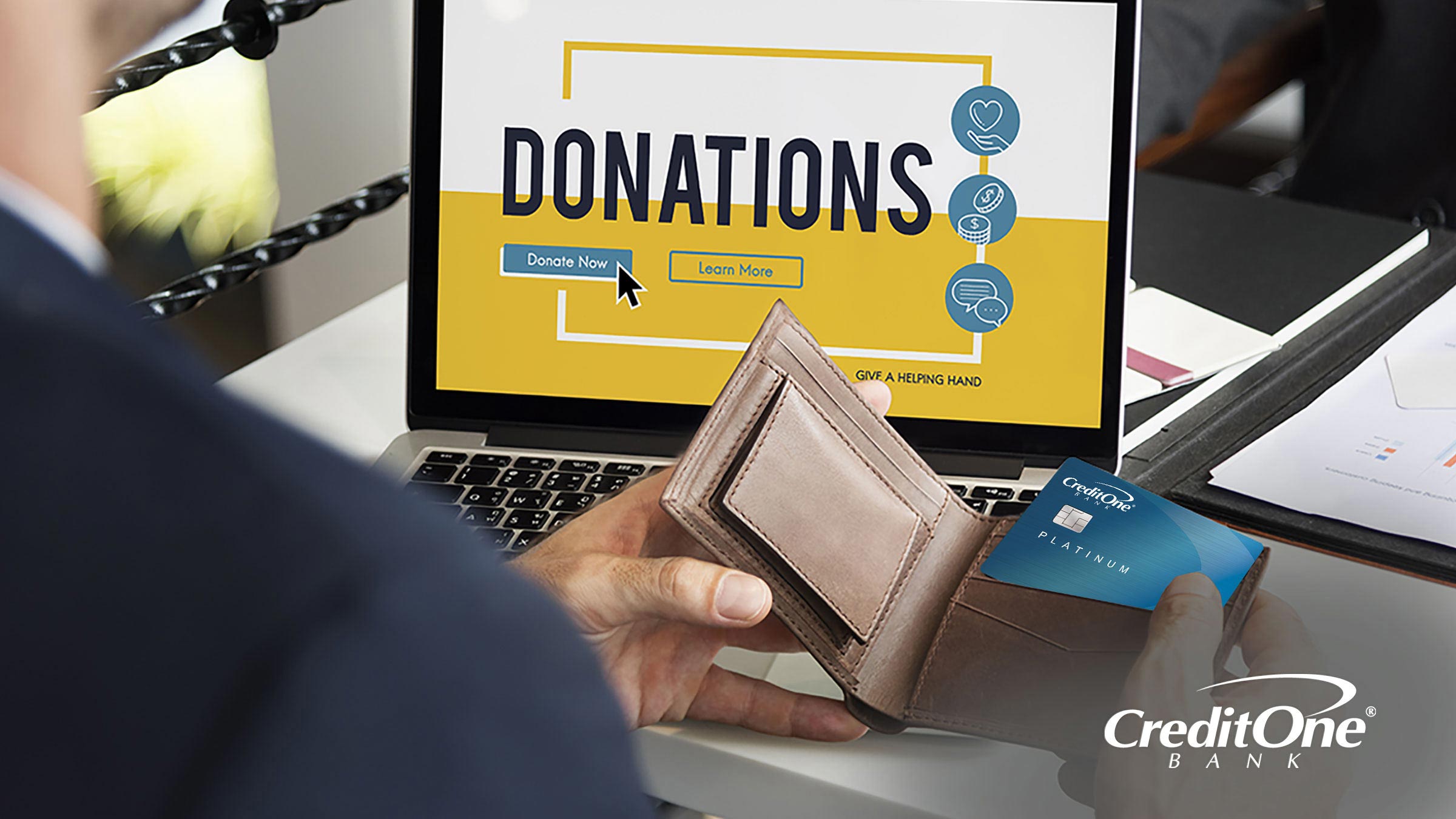 One of the many benefits credit cards offer is convenience. While they're primarily known for the convenience they offer in purchasing and getting things, did you know they can also be extremely convenient for giving?
That's right. A credit card can make providing financial support to a social cause or charitable organization of your choice simple and easy several ways. Read on to see how.
Making Charitable Donations via Credit Card
Many charitable organizations accept donations via credit card, which makes it easier for both charities and donors. While most larger organizations are almost certainly set up to accept credit card donations, there are also credit card processing options available for smaller nonprofit organizations.
Making a charitable donation via credit card can typically be done one of three ways: (1) in person, at an event sponsored by the charity, (2) over the telephone, or (3) online, through the donation page of the charity's website. If you don't have a particular charity in mind to which you want to donate, but you still want to give, consider donating through an online charitable aggregator like Global Giving. Organizations like this can direct you to causes that interest you and let you donate directly through their website.
Just like donations made by cash or check, credit card donations to qualifying charities may be tax deductible. So, if you itemize deductions on your tax return, keep accurate records of your credit card donations to support your tax return. One of the benefits of donating via credit card is that your donations should show up on your credit card statement, which makes keeping track of donations that much easier.
One other advantage of making charitable donations with a credit card versus check or cash is that, if your credit card is a rewards card, you could earn cash back, points, airline miles, or other rewards for your donation if it qualifies as an eligible purchase.
Donating Credit Card Rewards
Rewards credit cards provide another way to give to those in need. Many credit cards rewards programs give you the option of donating any rewards you've earned with credit card to a charity or nonprofit organization.
To see if your credit card rewards program offers this option, start by visiting your card's rewards program charity page. Participating programs typically provide a link to a charity portal, where you can choose from a large selection of nonprofit organizations. Instead of redeeming your points for statement credits, gift cards, or travel perks, simply donate them directly to the charity you select.
In most cases, cash back rewards, points, and mileage donations are not tax-deductible because the IRS views credit card rewards as discounts, not income. But, if a tax deduction is important to you, you may be able to first redeem your points or miles for cash back and then use the money to donate to the charity, so it's possible to claim a deduction on your federal income tax return. Speak with your tax advisor to confirm how donating your credit card rewards might apply to your specific financial situation.
Donating via a Charity-Themed Credit Card
A third way to give back with a credit card is to get a credit card that's co-branded with a specific charity. These co-branded credit cards, also called affinity cards, provide card members a consistent way to support specific nonprofit organizations. Donations are made to the charity automatically and are typically based on percentage of each transaction made by the card member. So, the more purchases made by a card member, the greater amount of funding the charity receives. A charitable affinity card will oftentimes have the logo of the charity to which it donates printed directly on the physical credit card.
Charity-Themed Credit Card Advantages
Charity themed credit cards have benefits that can help turn occasional supporters into consistent donors. These benefits may include but are not limited to:
Automated giving, which makes it easier to support the designated nonprofit organization
Eye-catching card logos, which can spark conversations and interest in the charity among family and friends
Standard credit card perks, such as 0% introductory APR on purchases and balance transfers, sign-up bonuses, no annual fees, and more
An opportunity to split your earned charity reward with multiple organizations
Rewards that can be turned into tax-deductible donations
Opportunities to earn additional rewards on purchases
Bonus donations for keeping the card active
Charity-Themed Credit Card Disadvantages
Though charity-themed credit cards have benefits that can improve the bottom line for both you and the charity, there are a few other things to consider. For example, with some cards:
Your automatic donations may not be tax deductible
Donation percentages could be lower than cash back reward percentages you could earn with a standard rewards credit card
The card could charge a processing fee, which reduces the reward the charitable organization will receive
The APR on a charity-themed credit card can be just as high as standard credit cards, so if you plan on carrying a balance, you could end up paying more in interest than what you actually donate to the charity.
Which Type of Credit Card Is Best for Donating to Charity?
The answer to this question all depends on your lifestyle and your giving goals. Making a monetary donation with a traditional credit card lets you control when, where, and how much you choose to donate. The same can be said for reward credit cards. You decide how much of your rewards to donate to charity and when you choose to do it. If you want to control these elements, then donating with either of these types of credit cards is probably best for you.
On the other hand, charity-themed credit cards provide a passive way to consistently give a consistent amount to a charity. So, if you want to know that you're giving every time you make a purchase, this may be the right choice for you.
Regardless of which option you choose—or if you choose all three—using a credit card to donate to charity can make a difference in the lives of others and make you feel good inside for giving.
Interested in a cash back rewards credit card? See if you Pre-Qualify for a Credit One Bank credit card in less than a minute—without harming your credit score!