10 Famous Quotes About Finances & Credit
Empowering Words of Wisdom on Money
---
Are you looking for some great quotes about money to use in a business presentation, email, social post, or school project? Look no further, because here are 10 of the best celebrity quotes on finances, wealth and credit.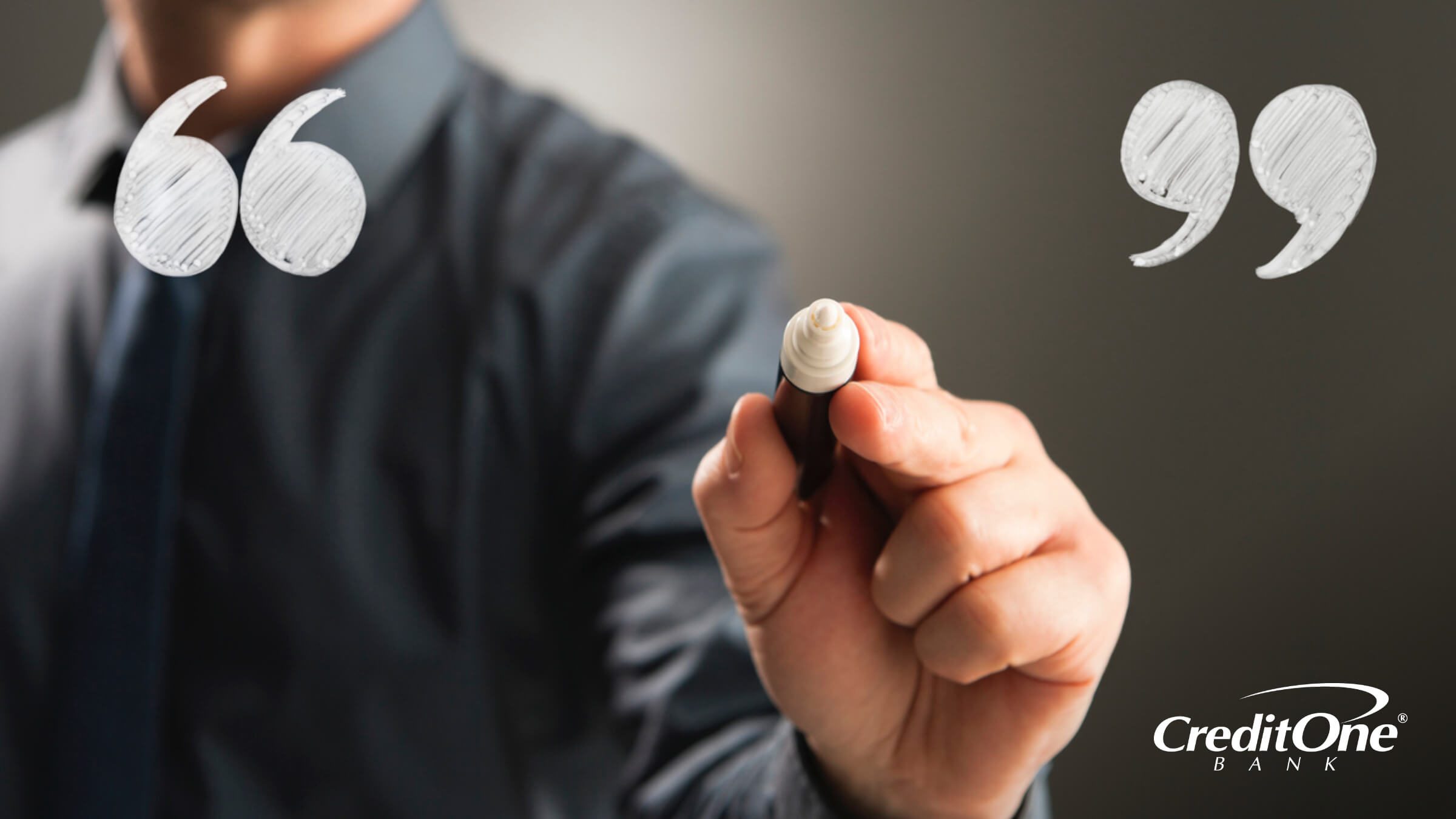 Ancient Greek playwright Sophocles wrote, "Wisdom outweighs any wealth." While this statement certainly rings true, it's also true that wisdom can play a major role in achieving wealth—particularly when it comes to effectively managing your finances and credit.
So, in the spirit of gleaning useful advice from some of the finest, shrewdest minds throughout history, here are 10 pertinent quotations to consider when dealing with your money and credit.
1. "Money is a terrible master but an excellent servant."
~P.T. Barnum~
Phineas Taylor Barnum—American author, publisher, philanthropist, politician, and co-founder of Barnum & Bailey Circus—was renowned for being a showman who knew how to make a buck, which is how he became one of America's first millionaires. His quote sums up the importance of making your money work for you.
Barnum points out that, if all you do is work for money, it essentially becomes your master. On the other hand, if you put your money to work paying bills and for life's necessities, acquiring assets and other investments, etc., it serves you. So strive to be the master of your destiny—financially, anyway—by ensuring you're the master of your money.
2. "A man who pays his bills on time is soon forgotten."
~Oscar Wilde~
Irish poet/playwright Oscar Wilde experienced an up-and-down relationship with money over the course of his 46 years of life, being born into a financially comfortable family, enjoying a successful writing career, and ultimately dying impoverished and destitute in 1900. His above quote is especially pertinent to credit scores, which are based heavily on how one pays their bills.
Wilde makes the point that, by paying your bills on time, you will essentially be "forgotten" by your creditors, which is actually a good thing because, if they're remembering you, that probably means you owe them money. Much better to be a much-less-conspicuous debtor who pays their bills consistently and on time, according to Wilde.
3. "The most difficult thing is the decision to act, the rest is merely tenacity."
~Amelia Earhart~
This quotation by the world's most famous female aviator isn't about finances, but it's certainly applicable. Amelia Earhart addresses one of the hardest parts about improving your finances or building credit—just getting started. After that, she suggests, it's merely a matter of sticking with it.
Ms. Earhart's advice mirrors another sage quote about the importance of just getting started by China's Lao Tzu, the father of Taoism: "The journey of a thousand miles begins with a single step."
4. "Beware of little expenses; a small leak will sink a great ship."
~Benjamin Franklin~
This piece of advice from one of America's wisest founding fathers points out how it doesn't take much to derail (pardon the mixed train and ship metaphors) a budget and, ultimately, your financial goals.
Just as a small leak can bring down an enormous ship, so too can supposedly "little" expenses eventually sink your budget. Especially when those "little" expenses add up to a significant amount of money you didn't budget for.
5. "You cannot escape the responsibility of tomorrow by evading it today."
~Abraham Lincoln~
Yet another quotation that pertains to life in general but can also be applied to credit and finances. Our 16th president's words are especially relevant when it comes to dealing with debt, a responsibility you owe a creditor tomorrow for money you borrow today.
Lincoln's words suggest that rather than deny your debt and put off dealing with it until later, you roll up your sleeves and get to work managing it now. Or, when it comes to saving money, start a savings or retirement plan today rather than waiting until it's too late.
6. "The desire of gold is not for gold. It is for the means of freedom and benefit."
~Ralph Waldo Emerson~
American essayist, poet, and key leader of the American transcendentalist movement, Ralph Waldo Emerson, dives into the motivation for achieving wealth with this insightful quote. Money, or gold, in and of itself is not the ultimate goal of wealth; the freedom it affords those who obtain it is.
So, as you strive to build your credit, stock portfolio, and bank account, keep in mind that those zeros you're adding to your statements are not what matter. The opportunities, freedom, and life they can provide you with are.
7. "To contract new debts is not the way to pay old ones."
~George Washington~
Our first president wrote these words back in 1799 in a letter to James Welch, who leased part of Washington's Great Kanawha lands. They address debt specifically and make it clear that borrowing money from new creditors to pay debts owed to existing ones is not the best method of dealing with financial obligations.
Unless it's a good balance transfer offer with a low interest rate, it merely leads to a continual cycle of being in debt; the only real change being the amounts owed and the names of the lenders.
8. "Fortune befriends the bold."
~Emily Dickinson~
With this quote, one of America's most famous poets sums up how being bold can play a big role in achieving fortune, both financially and in life. Ironically, Dickinson lived much of her life in isolation as a recluse, but her words and writings have been bold and poignant enough to live on for nearly 140 years since her death.
It's important not to confuse boldness for carelessness or needless risk, two things that can quickly drain wealth and do damage to a credit score. Rather, boldness suggests taking real action to achieve your goals instead of passively hoping they'll happen. What that action is—earning more income, saving more money, building your credit—is ultimately up to you.
9. "When prosperity comes, do not use all of it."
~Confucius~
China's most famous philosopher dispensed enlightened advice on many aspects of life over 2,500 years ago, including finances. With only nine words, Confucius emphasizes how wealth and prosperity can come and go, so it's imperative not to behave as though they're here to stay. And the way to do that is to live within your means and set aside some of today's wealth for a proverbial rainy day.
10. "Do the best you can, and don't take life too serious."
~Will Rogers~
We saved this one for last to emphasize the importance of prioritizing things in life. While money, credit, and financial stability are certainly important—at least in helping you live the life you desire—American humorist and writer Will Rogers stresses that they should not be your sole focus.
Rogers was known for finding humor in just about anything and led an interesting life—traveling and entertaining audiences around the world—by virtually any standard.
As you strive to build wealth, credit, and financial stability, try to keep Rogers's words in mind. Do the best you can and try to have a little fun with it along the way.
The journey of a thousand miles begins with a single step.
If you're looking for a new credit card to take on your own financial journey, consider one of Credit One Bank's offerings. See if you pre-qualify and you could soon be earning points or cash back rewards on eligible purchases.