American Express or Visa—Which Is Right for You?
---
American Express or Visa? Which type of credit card should you choose? Learn more in this article by Credit One Bank.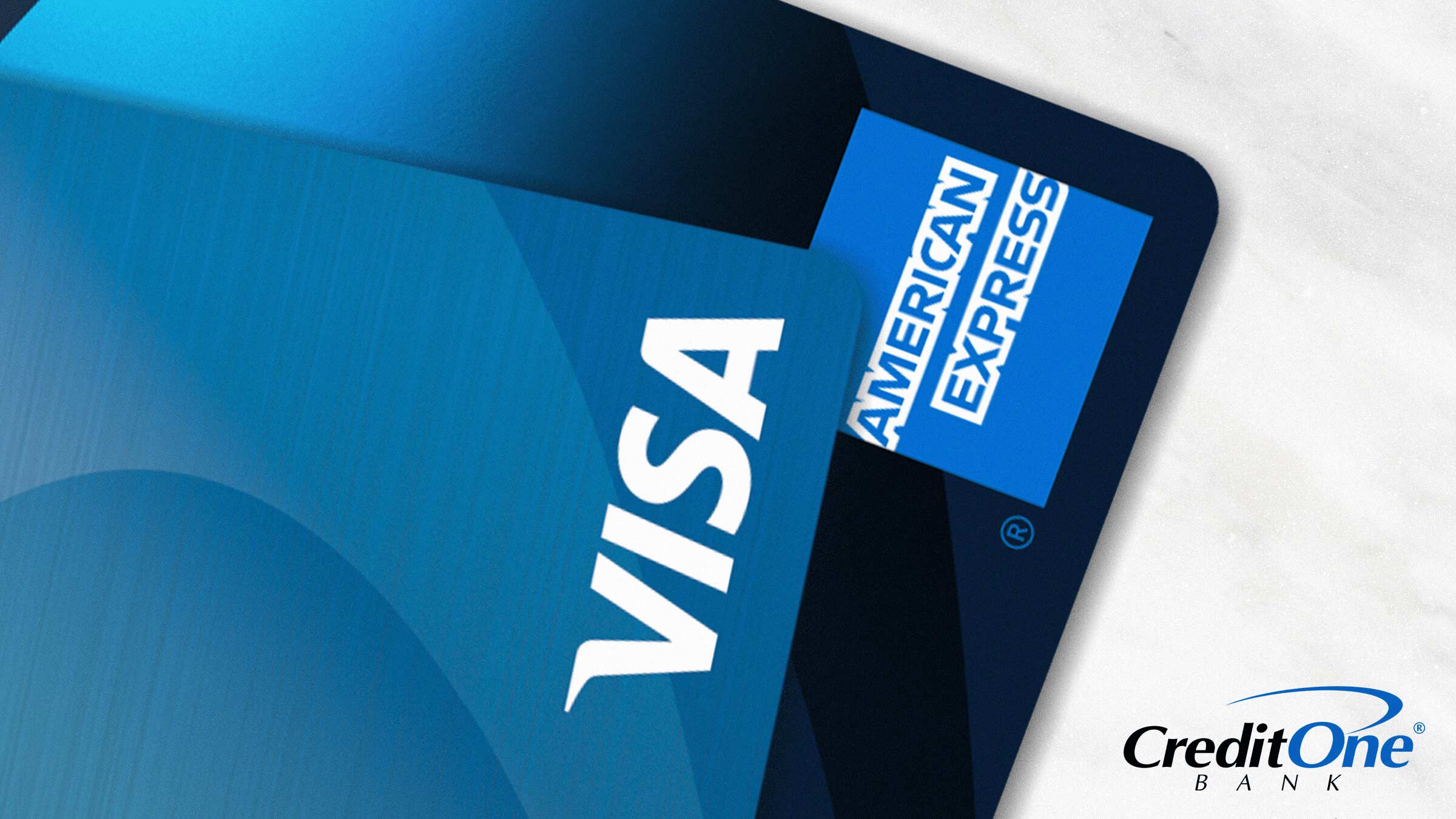 If you've ever been in the market for a credit card, you probably spent some time considering which type of credit card to apply for. Two of the most popular choices are American Express® and Visa®, but what exactly are the similarities and differences between the two, and why might you opt for one over the other?
Let's take a closer look at both.
Similarity: Both American Express and Visa Are Credit Card Networks
A credit card network is a payment infrastructure that facilitates transactions between a credit card issuer and merchants that accept the issuer's card. There are a lot of moving parts and multiple players involved in how credit card processing works, which you can read about or watch a video about here. Suffice it to say that a credit card network is the conduit over which credit card transactions take place.
There are four major credit card networks in the United States: American Express, Visa, Mastercard®, and Discover®. American Express Card transactions are conducted over American Express' network, Visa transactions are conducted over Visa's network, and so on.
You can tell which network your credit card uses by checking the logo on the card. You can also tell by the digits that compose the account number on the card:
American Express: Begins with 3, is followed by 4 or 7, and has 15 digits
Visa: Begins with 4 and has 13 or 16 digits
Mastercard: Begins with 5 and has 16 digits
Discover: Begins with 6 and has 16 digits
Difference: American Express Is Also a Card Issuer
One major difference between American Express and Visa is that the former is also a card issuer. What this means is you can apply for an American Express credit card directly from American Express and, if you're approved, they will issue you a card, not a third party.
Visa, on the other hand, is strictly a credit card network, and you cannot get a credit card directly from Visa. Instead, a third-party financial institution issues you a Visa credit card, and the name of that institution will appear on the card along with the Visa logo. For example, Credit One Bank offers a variety of Visa cards for consumers with varying credit scores and different priorities and interests.
Here's where it can get a little confusing. While American Express is a card issuer, they also offer co-branded credit cards through third-party financial institutions, such as Credit One Bank. The Credit One Bank American Express® Card is issued through the Bank and transactions are conducted over American Express' network.
The bottom line is that American Express is both a credit card network and a credit card issuer, whereas Visa is strictly a network.
Comparison: Card Acceptance with Merchants
Regardless of which network your credit card uses, or who issued the card, as a cardholder, you want to know that, when you go to purchase something with it, it will be accepted by the merchant. In this regard, American Express and Visa are nearly neck and neck—when it comes to domestic transactions, anyway.
A 2020 Nilson Report found that:
99% of U.S. merchants that accept credit cards accepted American Express.
10.6 million U.S. merchants accepted American Express compared to 10.7 that accepted Visa.
Domestically, Visa holds a slight acceptance edge over American Express by a margin of only 100,000 merchants. Internationally, however, Visa is more widely accepted by about 26 million merchants.
According to The Balance, as of November 1, 2021:
44 million merchants worldwide accepted American Express.
70 million merchants worldwide accepted Visa.
Comparison: Number of Cards in Circulation
When it comes to the sheer number of credit cards in circulation around the world, Visa holds a substantial lead over American Express—by over a factor of six. According to Wallet Hub, as of November 11, 2021:
53.7 million American Express cards were in circulation worldwide and were accepted in over 160 countries and territories.
336 million Visa cards were in circulation worldwide and were accepted in over 200 countries and territories.
Comparison: Credit Score Approval Requirements
Comparing the credit score requirements to be approved for an American Express card versus a Visa card is a bit tricky because it depends on which American Express and which Visa card you're talking about. There are a variety of products on different tiers with both networks. Plus, both are issued by multiple card issuers that set their own requirements—particularly Visa, which is only offered by third-party issuers.
Because Visa is offered by so many more card issuers than American Express, there are more types of Visa cards, so it's typically easier to get approved for a Visa card with a lower credit score than an American Express card. There are even secured credit cards that use the Visa network, which applicants with low credit scores—or no credit scores at all—can typically be approved for.
According to Experian, if you're applying for an American Express credit card directly from American Express, you'll typically need "Good" credit, which equates to a FICO® Score of  670 to 739 or a VantageScore® of 661 to 780. But there are also American Express cards issued by third-party institutions that may offer lower credit score approval thresholds.
The Credit One Bank American Express® Card is one such card. Depending on other factors, including an applicant's annual income, an applicant may be able to qualify for this card with a credit score that falls below the "Good" range.
Comparison: Credit Card Benefits & Perks
Comparing the benefits and perks of American Express and Visa is, again, a bit tricky because many of the benefits depend on the precise American Express or Visa card you've been issued and who the issuer is.
Visa credit cards are offered in three tiers—Visa Traditional, Visa Signature, and Visa Infinite—each with its own unique perks, plus any additional benefits offered by the credit card issuer. American Express credit card perks also vary by card.
Taking all of this into consideration, here is a broad-strokes comparison of some of the benefits and perks offered—AGAIN, THE ACTUAL BENEFITS WILL DEPEND ON THE SPECIFIC CREDIT CARD YOU'RE ISSUED:
Rewards
There is a wide variety of Amex and Visa cards that offer rewards in multiple forms, including but not limited to cash back rewards, points, and travel miles.


Rewards-Amplifying Programs
Amex Offers is American Express' program for earning bonus rewards. Visa has programs as well, such as Credit One Bank's More Cash Back Rewards program.


Zero Fraud Liability
Both American Express and Visa offer Zero Fraud Liability, which protects you against any unauthorized purchases made with the card.


Purchase Protection
American Express and Visa both offer degrees of purchase (or retail) protection.


Extended Warranty
An extended warranty benefit is offered by both American Express and Visa credit cards.


Supplemental Car Rental Insurance
This benefit is offered by both American Express and Visa. Certain Visa cards also provide roadside dispatch service.


Emergency Card Replacement
Both American Express and Visa offer emergency card replacement services.


Concierge Services
Both networks offer concierge services for emergencies as well.


Travel Insurance
American Express and Visa both offer various forms of travel insurance, including accident insurance, trip-delay insurance, lost luggage reimbursement, and more.


Cell Phone Protection
American Express and Visa both offer forms of cell phone protection. Both require that you use their card to pay your prior month's cell phone bill to be eligible for this protection.
Which Card Is the Right Choice?
If your credit score falls below the "Good" category, then you may want to apply for a Visa simply because it may be easier to find a card for which you'll qualify.
If you're an international traveler who uses credit cards abroad, then you may lean toward a Visa card simply because it's more widely accepted worldwide than American Express.
But, if you plan on using your credit card primarily for domestic purchases, and you have the credit score to qualify for either an American Express or Visa, you really can't go wrong choosing either. Both are widely accepted by domestic merchants, both offer similar benefits, and both have been trusted credit card networks for many years.
Like most choices in life, it really comes down to choosing the one that best meets your needs and works best for your lifestyle.