Paying Down Debt from Holiday Spending
---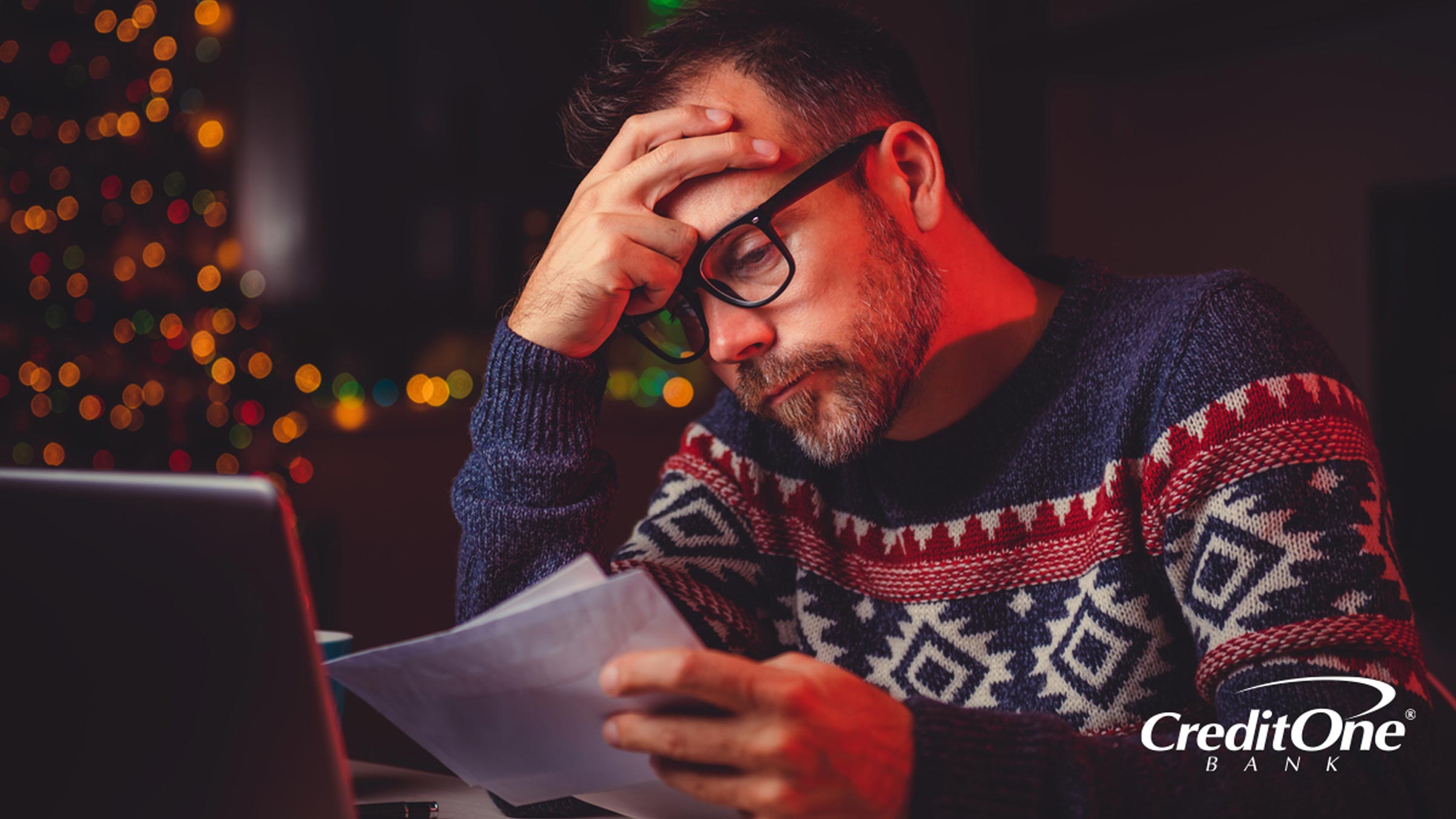 Even the best-laid budget plans can take a turn in the wrong direction around the holidays. The cost of gifts, decorations, food, events—even that weekly peppermint latte—can add up quickly. Then, before you know it, you've spent more than you ever planned to.
Americans racked up an average of $1,325 in holiday debt in 2019, according to a Magnify Money survey. And, in that same survey, 31% of those surveyed said it would take them five months or longer to repay that debt. If you have unexpected holiday credit card debt hanging over your head, here are seven tips that could help you pay it off faster.
1. Know What You Owe
Before you can develop an effective plan to eliminate your debt, you need to first understand just how much you need to repay— right down to the penny. You can't formulate a plan to pay back an amount if you don't even know what that amount is. So, sit down, go through your credit card statements, and acquaint yourself with just how much you actually owe.
Do the math, no matter how painful it is. It's similar to getting on the scale for the first time after the holidays, when you've put on holiday weight and resolved to lose weight for the new year. You have to know where you are before you can formulate a plan for where you want to be.
2. Create a Budget
Once you know how much you owe, put together a budget to serve as your roadmap for reducing holiday debt. If you have a lot to pay down, then you may've gotten caught up in the holiday spirit and indulged a bit more than you planned. Well, there's a cost for most everything in life, so now it's time put the holidays in your rearview mirror and start cutting back on other expenses—or increasing your income—to make a dent in the debt you accrued.
Consider cooking at home instead of ordering take-out. Or eliminate subscriptions you barely use. There are all kinds of steps you can take to save money. Once you've established a budget for your essential expenses, you'll know how much you can allocate for debt payments each month.
Remember that Valentine's Day is just around the corner, so try not to undo any gains you make in reducing your holiday debt by going into further debt for yet another holiday. There are lots of way to celebrate this day for lovers without breaking the bank.
3. Put Your Debts in Order
There are several debt-reduction strategies you can follow, two of them being the avalanche and snowball methods. With the avalanche method, you pay off the debt with the highest interest rate first, while continuing to make at least minimum payments on your other accounts, and work your way down. With the snowball method, you pay off the smallest balance first and then work your way up the list on your other debts until you finally tackle the debt with the largest balance owed.
Both of these methods have their pros and cons, but it's important to choose which one you're most likely to stick with and then, once you've made your decision, commit to that decision. You need to be every bit as committed to getting out of debt as you were to getting into it.
4. Set it and Forget it
Once you've decided how much debt you're going to pay off each month, and in what order, it may be time to set up automatic payments. When you put your finances on autopilot, you decrease the likelihood of missing a payment and increase the likelihood that you'll succeed in paying down your debt. Plus, if your funds automatically go toward paying down your debt, you won't have them in your hands and the temptation to spend them on something else.
5. Get a Job
As previously mentioned, cutting expenses is only one way to pay down debt. The other main strategy is to bring in more money. And a tried-and-true method of bringing in more money is to earn more money with a job.
If you don't have a job, it may be time to look for one. Finding employment during the COVID-19 pandemic may not be easy, but it's not impossible. If you already have a job, but it's not providing you with enough income to pay down your debt, a higher-paying job or a second job may be in order. If you can swing it, try turning a hobby into a source of income. Then you'll get paid for doing something you truly enjoy doing and would otherwise be willing to do for free.
6. Sell Stuff You'll No Longer Use
Gift cards to your favorite stores and restaurants are a great present. But, if your well-meaning friends and relatives gave you gift cards to places you'll never visit, consider selling them.
There are multiple websites out there that let you sell unwanted gift cards for cash or trade them for gift cards you actually want. You could use the cash you earn from selling your gift cards to help pay down your holiday debt.
The same holds true for unwanted gifts you received during the holidays. While you may have a hard time selling that monogrammed "ugly sweater" your grandma knitted you, other gifts that missed the mark for you may be a hot commodity for others on consumer selling sites like eBay or Etsy.
7. Apply Tax Refunds
Expecting a tax refund for 2020? If so, do your taxes early this year and consider using part or all of your federal and/or state refund to pay off purchases you made during the holiday season.
As of mid-November 2020, there hasn't been a second federal stimulus package approved, but if and when a second round of stimulus checks are issued, if you can afford to do so, apply some or all of it toward paying down holiday debt.
7. Consider a Balance Transfer
If you qualify, a credit card balance transfer could help you pay down holiday expenses you paid for with another credit card at a lower interest rate. Balance transfers typically work by consolidating multiple credit card balances onto a single card, often at a lower or even 0% interest rate.
If you transfer your holiday debt and can pay it off at a lower interest rate, you might be able to save some money in interest charges. Just be aware of the pros and cons of balance transfers before signing up for one, and read all of the terms and conditions of the credit card to which you're considering transferring your balances before pulling the trigger.
If you don't want to find yourself in the same holiday-debt situation next year, consider opening a separate bank account that's strictly for holiday expenses and deposit a certain amount of money from each paycheck into it. You may be surprised just how quickly your savings add up.
Then, when it's time to start shopping for the holidays next year, you can use the cash you've saved to pay for your holiday purchases without going into debt. Or make your purchases with a cash back rewards credit card to earn cash back rewards that could help offset the cost of your purchases, then pay off your holiday purchases from that savings account.